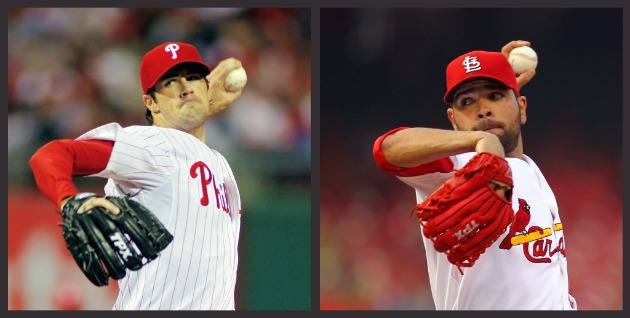 By Evan Brunell

Phillies
at
Cardinals
, 5:07 p.m. ET, Busch Stadium, TBS
Series: Tied 1-1

PITCHING MATCHUPS
Hamels vs. Cardinals: Hamels has plenty of history against the Cardinals, but the 2011 version isn't what he wants. Greinke gave up four runs to the Cards in seven innings in his lone start against St. Louis this year. The game came on Sept. 18, so Cardinals hitters will be familiar with Hamels when he toes the mound. Craig and Pujols each went deep on Hamels, but of batters with at least 10 plate appearances against Hamels in his career, only Theriot hits Hamels well at .333/.364/.571. No surprise he is in the lineup. Over Hamels' career, he has a 3.27 ERA in nine starts against the Redbirds.
Garcia vs. Phillies: Garcia has handcuffed the Phillies in the early going of his career, tossing up a pristine 1.90 ERA in four starts and two relief appearances. He's punched out 21 and walked 10 in 30 innings, including Ryan Howard six times. John Mayberry, Jr. has only faced Garcia six times but with three hits (one a double), he's the Phillie with the best marks against the lefty. Hunter Pence is the most successful Phillie with a decent amount of at-bats (15), having seen Garcia 15 times thanks to spending his career with Houston prior to being dealt to Philly.
NOTES
The hottest Cardinals hitter in the last two games has been Ryan Theriot, who played in Game 2 and went 2-for-4 with two doubles. His counterpart in Game 1, Skip Schumaker, went 3-for-5. Great production out of second base.
The best Phillie hitter has been either Jimmy Rollins, who is 5 for 8 with two doubles and five runs scored, or Chase Utley. Utley's gone 3 for 6 with four runs scored and two doubles. Raul Ibanez and Ryan Howard have also enjoyed a nice series.
Including the playoffs, St. Louis has gone 7-4 against Philadelphia.
How many relievers will Tony La Russa go through in Game 3? Game 2 saw six -- count 'em, six -- bullpen arms used, leaving just Jake Westbrook in the bullpen by the time Game 2 ended. A day off should ensure the entire bullpen is available.
There is zero chance of rain tonight in St. Louis and game-time temperature figures to be in the mid-70s.
For more baseball news, rumors and analysis, follow @EyeonBaseball on Twitter or subscribe to the RSS feed.