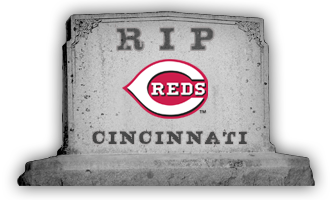 By C. Trent Rosecrans
Another season gone, another disappointment for 29 teams as one is immortalized forever. Let's take a look back at 2011 and forward in Eye on Baseball's R.I.P. series...
Team name:
Cincinnati
Reds
Record:
79-83, 3rd place, 17 games back
Manager:
Dusty Baker
Best hitter:
Joey Votto
-- .309/.416/.531 with 29 HR, 103 RBI
Best pitcher:
Johnny Cueto
-- 9-5, 24 GS, 156 IP, 2.31 ERA, 104 K, 47 BB
Coming off the 2010 National League Central title with pretty much the same team intact, the Reds were expected to challenge for the title again. However, the team could never quite get consistent starting pitching and were on the outside looking in by the All-Star break, close enough not to become sellers at the deadline and ultimately irrelevant for the last two months of the season.
2011 SEASON RECAP
Cueto took a step forward in his development and Votto showed he was anything but a one-hit wonder, while Brandon Phillips played at an All-Star level. Other than that, most every other Cincinnati Red took a step back from their 2010 performance. Bronson Arroyo and Drew Stubbs set dubious marks -- Arroyo allowing 46 homers and Stubbs striking out 205 times. Opening-day starter Edinson Volquez was twice demoted to the minors and third baseman Scott Rolen was limited to just 65 games. Lefty Travis Wood struggled in his second year and right-hander Homer Bailey has yet to find consistency. The team's gaping holes at shortstop and left field were magnified and its rotation wasn't as deep as promised in the spring. In all, disappointment was all around in 2011 as Cincinnati was unable to defend its crown.
2012 AUDIT
The Reds need to follow the lead of the Brewers, who decided to go for it in 2011 instead of worrying what would happen when Prince Fielder left. The Reds still have two more years of Votto, they need to take advantage of that and try to win before Votto goes to greener pastures, not fret about what's going to happen in two years. The Reds still need some help at the top of their rotation, a right-handed power bat for the middle of the lineup and to make a decision about left field and shortstop.
FREE AGENTS
CL
Francisco Cordero
(team holds a $12 million option for 2012)
2B Brandon Phillips (team holds a $12 million option for 2012)
C
Ramon Hernandez
SS
Edgar Renteria
LHP
Dontrelle Willis
OFFSEASON FOCUS
For more baseball news, rumors and analysis, follow @eyeonbaseball on Twitter or subscribe to the RSS feed.