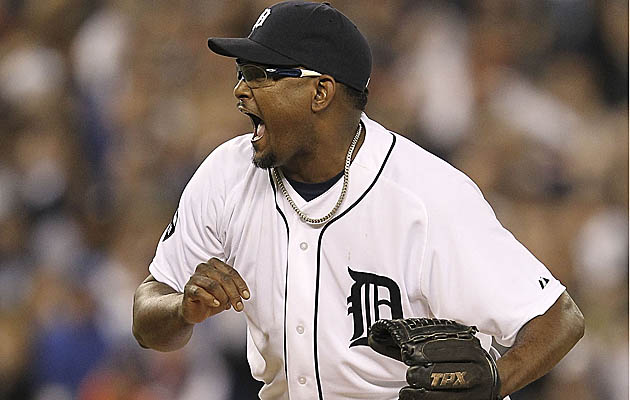 By Matt Snyder
Tigers
closer
Jose Valverde
led the majors with 49 saves this season. He had zero blown saves. If you simply look at those numbers and nothing more, it might seem the Tigers have absolutely nothing to worry about when heading into the ninth inning. From that point of view, they have the best closer in the majors. And it's true he hasn't blown any saves thus far in 2011.
But we're talking about an erratic pitcher in terms of how he pitches on a day-to-day basis and Tigers fans would likely admit as much. He's been on the verge of blowing saves several times and he nearly blew the game each of the Tigers' two wins in the ALDS (note: Game 2 wasn't a save opportunity, but he still almost blew the game).
Sunday, it took Valverde 34 pitches to end the game. He allowed two hits, two walks and two earned runs. He ended up having to face
Robinson Cano
, who represented the go-ahead run, to end the game. Cano grounded out. Disaster averted.
Monday, it took Valverde 19 pitches to nail it down. He walked two and one of his first two outs was a warning-track fly out by
Russell Martin
that would have been in the seats in Yankee Stadium. But it was in Comerica, so he was still safe. With two outs, after walking
Brett Gardner
, Valverde then faced
Derek Jeter
with runners on first and second and a one-run lead. And the runner on first was Gardner, one of the fastest men in baseball. Valverde struck Jeter out. Disaster averted again.
So, once again, we're left with the two sides of the argument. On one side, he hasn't blown anything, so Valverde is simply getting the job done. On the other, he's just dodging far too many bullets for even his biggest fans to blindly believe that his success will continue at this rate.
Don't get me wrong. Valverde is definitely a good closer. It's just that he plays with fire far too often, and eventually he's going to get burned. It might be Game 4 of the ALDS, it might be Game 3 of the ALCS or it might just be Game 7 of the World Series. Then again, it might even be sometime next season. Maybe he can eke his way by for nine more Tigers wins, but Valverde cannot continue to put himself in the kind of trouble he has in the past two games and expect to always get out of it. Eventually, it's going to catch up with him. The entire city of Detroit just has to hope the inevitable is delayed until 2012.
More postseason coverage:
Postseason schedule
|
Yankees
-Tigers series |
2011 playoffs
For more baseball news, rumors and analysis, follow @EyeOnBaseball on Twitter or subscribe to the RSS feed.