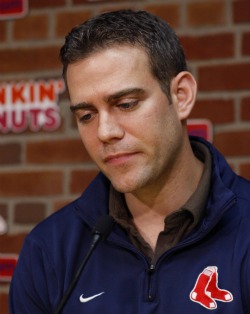 By C. Trent Rosecrans
A source tells ESPNBoston.com's Gordon Edes that it's "50-50" that Red Sox general manager Theo Epstein will leave Boston "for the right situation." Could that open the door for Epstein to take over the GM-less Chicago Cubs?
The opportunity to break the sport's two greatest curses would put Epstein in a category of famous front-office members that currently stands at one, and that's Branch Rickey. Not even Billy Beane and Brad Pitt would be able to top Epstein's accomplishment in baseball lore if he added a goat to his wall of skins along with the Babe. The only question would be if Ben Affleck would feel too jilted by Epstein leaving Boston to play the movie version of Epstein.
During Friday night's press conference announcing Terry Francona's departure, CEO Larry Lucchino and chairman Tom Werner dodged a question about Epstein's future and the team's GM didn't offer any insight, either.
Lucchino did note that Epstein is still under contract, which goes for one more year.
Edes noted, however, that owner John Henry feels some loyalty toward his general manager and would "not stand in the way" if Epstein wanted to go elsewhere.
But the Cubs may not be the only suitor if Epstein wants to leave Boston. The Angels also have an opening for a general manager. Michael Silverman of the Boston Herlad writes that "sources familiar with Angels owner Arte Moreno's thinking" are split about whether Moreno would want Epstein. Epstein may be fond of jackets and sweaters, but the ability to not need one in Southern California could appeal to him, as much as the challenge of ending the Cubs' title droughts.
Either way, before the general managers start chasing free agents, there will be a chase for general managers, with Epstein this year's version of Cliff Lee.
For more baseball news, rumors and analysis, follow @eyeonbaseball on Twitter or subscribe to the RSS feed.