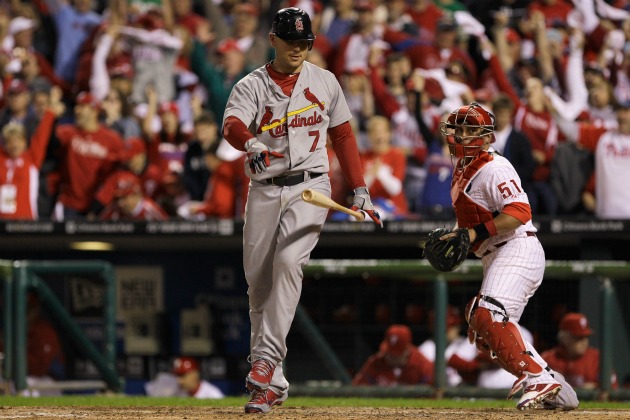 By C. Trent Rosecrans
Cardinals outfielder Matt Holliday will have his hand examined in St. Louis on Monday and may not be able to play in the National League division series against the Phillies, Joe Strauss of the St. Louis Post-Dispatch reports.
Holliday missed the first two games of the NLDS with a strained tendon in his right palm. After taking batting practice before Saturday's game, Holliday didn't take batting practice on Sunday. Holliday has declined taking a cortisone shot, fearing it would hurt his chances to play, but has used a cortisone cream and received acupuncture.
"I left that (left field) spot open until it was confirmed as yes or now. And quickly the answer was no," La Russa told Strauss. "So I don't know about Tuesday. I know right now I'm more concerned than I was before (Saturday's) game because he took an at-bat and he did had soreness when he swung."
The Cardinals placed Holliday on the 25-man roster for the NLDS hoping he'd be able to play, but if he's replaced now, he would not be eligible for the next round of the playoffs.
"Obviously, when we put our roster together (Saturday) morning, we were optimistic he would be further along," Cardinals general manager John Mozeliak told the newspaper. "But I"m not prepared to say we may have to make a roster move at this point."
The Cardinals have used Lance Berkman in left field in Holliday's position, while using Allen Craig in right.
Holliday hit .296/.388/.525 with 22 home runs and 75 RBI in an injury-filled 2011. Holliday needed an emergency appendectomy in the first week of the season, but missed just seven games, avoiding the disabled list. He struggled with a quad injury in May and June before finally going on the disabled list on June 1. And then in August, he had to leave a game after a moth flew into his ear. HIs latest injury came late in the season while swinging, but he had to leave last Monday's game with the Astros because he couldn't throw the ball without pain and hasn't started a game since.
For more baseball news, rumors and analysis, follow @eyeonbaseball on Twitter or subscribe to the RSS feed.