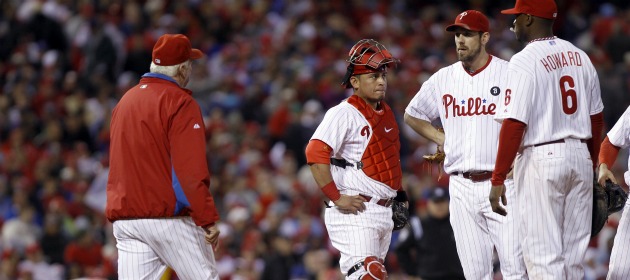 By Evan Brunell

The
Cardinals
came away with a 5-4 victory in Game 2 of the NLDS to even the series at one apiece, but the game wasn't without a typical Tony La Russa complaint.
La Russa told TBS on national TV that there were two separate strike zones and that was the reason for
Chris Carpenter
's failed start. Carpenter was starting on three days rest, the first time he's ever done that. He was
bombed for four runs over three innings
and it was only due to a masterful, shutdown performance by the bullpen that the Cardinals eked out a victory.
But was La Russa right? Well,
Cliff Lee
had his own problems too and ended up surrendering five runs in six innings. His 12 hits allowed tied a career high, last achieving the feat on May 3, 2009 in Detroit while a member of the
Indians
, five teams back in Lee's mind. But Lee was dominant early on, and the below graphic shows Meals' strike zone through three innings, so it includes all of Carpenter's pitches, plus Lee's best stretch of pitching throughout the whole game, holding St. Louis scoreless through three.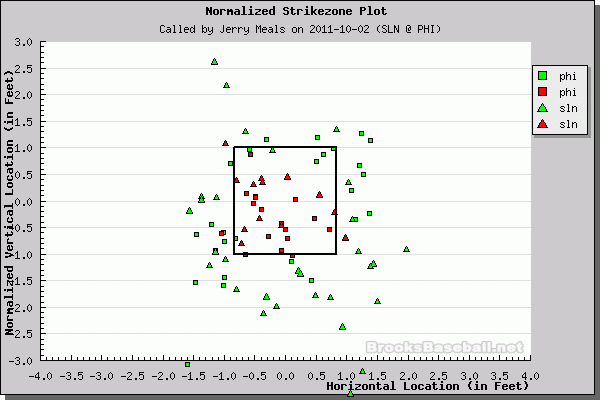 As you can see, Meals isn't discriminating against either pitcher, although he doesn't allow the high and inside pitch to lefties. Meals may not be following the rules of a strike zone to a T, but at least he's consistent. Carpenter struggled because Meals wasn't calling the low pitch, which is Carp's bread and butter. But if you see the zone, Meals was actually spot on in not allowing Carpenter to get away with the low pitches out of the zone. Just because the umpire didn't gift Carpenter strikes doesn't give La Russa justification to go and complain about two separate zones, calling the umpire's integrity into question (although we certainly do plenty of that here at Eye on Baseball) when Meals was actually consistent on both sides. (The remainder of the game saw more of the same in Meals' strikezone.)
Both pitchers were getting squeezed, but Lee also suffered from bad luck. Some of the Cardinals' hits were flares or balls that snuck through the infield dirt. Hey, it all counts, but it's not as if Lee was getting ripped. He was dinked and dunked to death, and the hits just kept on piling up in the fourth and sixth, with
Brad Lidge
extricating Lee from further trouble by getting out of a no-out, first-and-third scenario.
After the game, La Russa admitted it wasn't "a great comment to make," and excused it away by saying that everyone cares too much. He later added that the Cardinals have no choice but to adjust to the strike zone that the umpire sets. Sounds like someone is trying to avoid a fine from MLB.
Next time, La Russa would do well to keep his mouth shut from the start and allow the Cardinals to do their speaking on the field. Look at what we're discussing in the postgame, after all, instead of a hard-fought Cardinals win.
For more baseball news, rumors and analysis, follow @EyeonBaseball on Twitter or subscribe to the RSS feed.