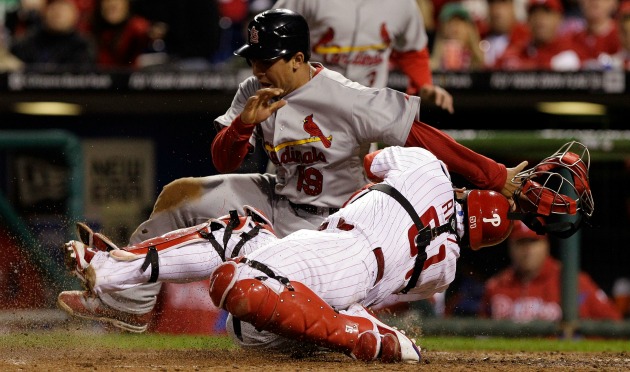 By Evan Brunell
WP: Octavio Dotel
LP: Cliff Lee
SV: Jason Motte
HR: None
Series: Tied at one apiece in a best-of-5
Hero: Jon Jay showed a lot in his second career postseason game after going hitless in Game 1. Jay bowled over Carlos Ruiz of the Phillies in in an attempt to tie the game but was out at the plate. It was a pretty good hit on Ruiz though, and it speaks well of Jay being willing to get down and dirty. No wonder manager Tony La Russa is a fan. Jay's second chance at tying the game worked, singling in Ryan Theriot two innings later and the Cardinals would go on to win the game. Overall, Jay had a two-hit night and 2 RBI out of the eight-spot.
Goat: Technically, La Russa and the Cardinals won the game, and he'll tell you it doesn't matter what happens except coming away with a W. But sheesh, he was as aggravating today as he's ever been. First, he complained (what's new?) about the strike zone, saying it harmed Chris Carpenter when even a cursory look at the umpire's zone shows that he was squeezing Cliff Lee too. Then he makes the bottom of the eighth go on forever with three -- thats right, three -- pitching changes. Marc Rzepczynski hit Chase Utley, then Mitchell Boggs forced Hunter Pence into a fielder's choice. Arthur Rhodes K'd Ryan Howard, and Jason Motte finished the inning off by inducing Shane Victorino into a flyout. Yeah, it worked, but only La Russa knows how to slow down a game.
Next: 10/4 at St. Louis, 5:07 p.m. ET. Edwin Jackson (12-9, 3.79) vs. Roy Oswalt (9-10, 3.69)
More postseason coverage:
Postseason schedule
|
Phillies-Cardinals series
|
2011 playoffs
For more baseball news, rumors and analysis, follow @EyeonBaseball on Twitter or subscribe to the RSS feed.