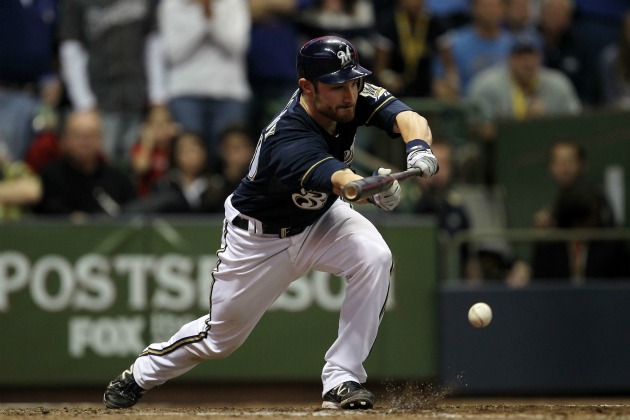 By C. Trent Rosecrans
The guy who can't hit didn't need to -- all Jonathan Lucroy needed to do was lay down a bunt and he did that to help give Milwaukee a 9-4 victory over the Diamondbacks.
After Saturday's Brewers win, Diamondbacks starter Ian Kennedy said he didn't worry about pitching to the Brewers catcher because "it was a guy who can't really hit." Lucroy got Kennedy for what ended up being the winning run on a bloop single Saturday, and then drove in the winning run Sunday with his suicide squeeze in the Brewers' five-run sixth inning.
Lucroy was just one of the "other guys" who powered the team's big inning, as Milwaukee batted around in the inning.
On Saturday, Arizona manager Kirk Gibson was criticized for not pitching around Prince Fielder, as the 3-4 tandem of Fielder and Ryan Braun combined to go 5 for 8 in Game 1, while the rest of the team was 3 for 23. Those two continued their dominance on Sunday, going a combined 4 for 8 with four RBI, but the "other guys" stepped up -- going 8 for 27 on the night, including three hits in the sixth.
"If we can get on base with those big guys, and two, three, four hole, that's the key a lot of times," Lucroy said at the postgame news conference. "Especially when he pitches around those guys so much. That means they've got to pitch to them, when we're on base in front of them. Like Corey (Hart) and Nyjer (Morgan)."
Sunday those guys and more came through when the Brewers needed them most. Braun and Fielder drove in four runs and the rest drove in five.
The key was the sixth inning when Jerry Hariston Jr. doubled with one out in the inning to chase Daniel Hudson from the game. Reliever Brad Ziegler then balked Hairston to third and after Yuniesky Betancourt walked, Lucroy came through with the bunt, which gave Milwaukee the lead. Saturday there were two outs for Lucroy when he hit the blooper off of Hudson, Sunday there was just one, so he could lay down the bunt. Lucroy had four sacrifice bunts during the season.
"It's always a tough call for me because I still like him offensively swinging the bat, but he's doing such a good job at the squeeze, that he's in the right spot to do it," manager Ron Roenicke said in the postgame news conference. "Sometimes you look at your lineups and you have that pitcher after him. If there's not a place to put Luc on, it's a nice play for him."
After an intentional walk to pinch hitter Mark Kotsay to put the double play back in order, Hart and Morgan came through with back-to-back RBI singles before Braun capped the scoring with an RBI single of his own. By that time, the damage was done and the guy "who can't really hit" came through.
"It don't matter to me. I just like to win," Lucroy said in the news conference. "Whether it's conventionally or unconventionally, I'll take a win any day."
For more baseball news, rumors and analysis, follow @eyeonbaseball on Twitter or subscribe to the RSS feed.