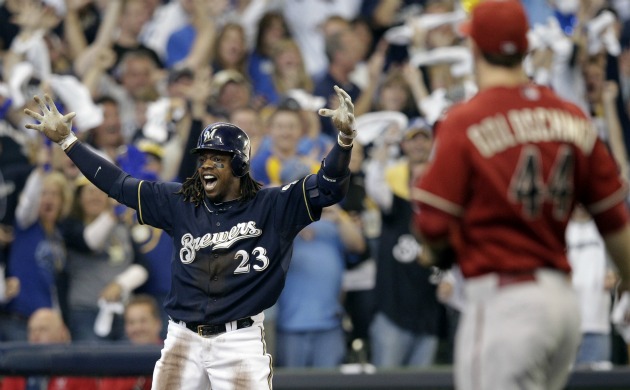 By C. Trent Rosecrans
WP: Takashi Saito
LP: Daniel Hudson
HR: Paul Goldschmidt, Ryan Braun, Chris Young, Justin Upton
Series: Brewers lead 2-0
Hero: Braun started the game's scoring with a two-run homer in the first inning and capped it with an RBI single in the five-run sixth inning. Braun's now 6 for 8 in the series with three RBI and four runs scored.
Goat: Brad Ziegler replaced Hudson with after Jerry Hairston Jr.'s sixth-inning double and had the task of just retiring two of the Brewers' worst hitters, Yuniesky Betancourt and Jonathan Lucroy. Ziegler balked to send Hairston to third and walked Betancourt on four pitches. That's when the Brewers took the lead on Lucroy's successful squeeze -- and Ziegler compounded his mistake by throwing the ball away instead of getting the sure out at first and also put runners on second and third. Ziegler intentionally walked pinch hitter Mark Kotsay before giving up three straight singles to Corey Hart, Nyjer Morgan and Ryan Braun to make it 9-4. Kirk Gibson mercifully ended Ziegler's day after Braun's third RBI of the day.
Next: 10/4 at Arizona, 9:37 p.m. ET. Shaun Marcum (13-7, 3.54) vs. Josh Collmenter (10-10, 3.38)
More postseason coverage:
Postseason schedule
|
Brewers-Diamondbacks series
|
2011 playoffs

For more baseball news, rumors and analysis, follow @eyeonbaseball on Twitter or subscribe to the RSS feed.