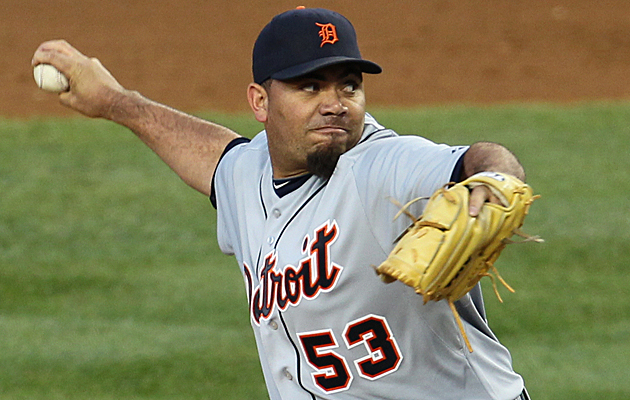 By Matt Snyder
Miguel Cabrera
's home run. Cabrera's RBI single.
Max Scherzer
's solid outing.
Jose Valverde
's near-colossal meltdown in the ninth inning.
What do those things all have in common? They're likely to get more attention than
Joaquin Benoit
's outing, for one. If you only look at the box score, Benoit's line doesn't look very good, either, due to him allowing a
Curtis Granderson
home run to open the eighth inning. Make no mistake about it, though, Benoit was a major player Sunday, just as he has been for the overwhelming majority of the season.
In the offseason, the
Tigers
signed Benoit to a three-year, $16.5 million contract. That's a pretty big commitment to a guy who only throws one inning at a time, especially since he was 33 and coming off a season that appeared an outlier when compared to the rest of his career (his career ERA was 4.79 before 2010, for example). By the middle of May, the deal looked like it might be a mistake, too. After a disastrous May 16 outing, Benoit had three losses, a 7.98 ERA and 1.66 WHIP.
Since then, however, Benoit has been a steadying force in the Tigers' bullpen, just as he was Sunday. From May 20 to the end of the regular season, Benoit had a 1.36 ERA, 0.84 WHIP and 52 strikeouts in 46 1/3 innings.
Sunday, Benoit was given quite the task. He entered the game in the seventh inning -- he usually only pitches in the eighth -- with runners on first and second with no outs. It was a 4-0 Tigers lead at the time, but one swing of the bat would have made it 4-3 (and we now know that the Tigers would only hold on to win 5-3) and given the
Yankees
all kinds of momentum. Benoit got a fly ball out off
Russell Martin
's bat and then struck out both
Eric Chavez
and
Derek Jeter
to end the inning with no damage done. Benoit then took the hill for the eighth, even though he hadn't thrown two full innings since Aug. 30. The Granderson homer to open the inning didn't phase Benoit, who went on to retire
Robinson Cano
,
Alex Rodriguez
and
Mark Teixeira
.
Most headlines will look elsewhere, but the work done by Benoit Sunday was one of the biggest reasons the Tigers won the game. Just as he's been doing since the middle of May, he got the job done when it counted most -- even if it was in the seventh inning this time around.
More postseason coverage:
Postseason schedule
|
Yankees-Tigers series
|
2011 playoffs
For more baseball news, rumors and analysis, follow @EyeOnBaseball on Twitter or subscribe to the RSS feed.