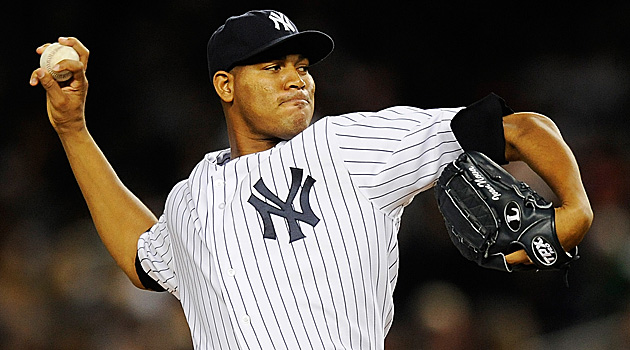 By Matt Snyder
The narrative we heard all last offseason and during most of the 2011 regular season was that the
Yankees
' rotation behind
CC Sabathia
is a mess. You can't win in October with only one good starting pitcher, the narrative reads. And while
Ivan Nova
had a 16-4 regular-season record, his low strikeout rate, high WHIP and mediocre ERA say he's not much more than a run-of-the-mill starter being aided by a playing on a great team.
But you know what? All the Yankees need out of a two is consistency. Nova provides it.
The outing Saturday night proved he's plenty capable of filling the second slot in the Yankees rotation, just as he's been proving all season. He worked into the ninth, which was his seventh inning, before faltering. His final line: 6 1/3 innings, four hits, two earned runs, four walks, five strikeouts and the win. That's not great, but it's not bad either. Basically, it was the same story it has been all year with Nova. He's not great, but he's
good enough
and that's really all the Yankees need from him.
The biggest test Saturday was how Nova would handle the postseason stage. He'd never previously pitched in the playoffs and was facing a pretty potent Detroit offense. One would have to conclude he passed the test with flying colors through six innings of work.
Nova's not
A.J. Burnett
, where you're liable to see either a 9-run, 3-inning outing or a 10-stirkeout shutout. The Yankees don't need to gamble like that. They have one of the most high-powered offenses in baseball and a back-end of the bullpen that can shut down any opposing offense with relative ease. They don't need Sabathia-type dominance every time out in order to win. Nova just provides exactly what the Yankees need. There are no hills and valleys. They have their ace to take care of business against other aces. Behind CC, they need Nova to provide a quality start. That's it. That's all the Yankees need out of their second starter.
Nova didn't start Saturday night, as the game was a continuation from where it left off Friday night, but his line would have amounted to a quality start. He had 16 quality starts in the regular season. He won 16 games. The Yankees won 19 of his 27 starts in the regular season. They won Saturday night.
Are we starting to get the picture here? Nova is unspectacular, but that doesn't much matter. The game Saturday night was simply a microcosm for his entire 2011 season. He took the ball, threw his six good innings and when the
Tigers
started to make a run,
Mariano Rivera
came out of the bullpen and closed the door. During that time period, the offense scored nine runs.
That's a formula for winning lots of series. Maybe even the World Series.
More postseason coverage:
Postseason schedule
|
Yankees-Tigers series
|
2011 playoffs
For more baseball news, rumors and analysis, follow @EyeOnBaseball on Twitter or subscribe to the RSS feed.