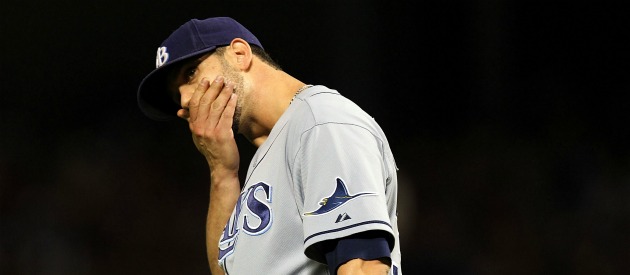 By Evan Brunell

James Shields
was among the best pitchers in baseball all year, and entered Saturday having posted a 2.82 ERA on the season. He also had the honor of being the first pitcher since Roger Clemens in 1992 to record 11 complete games and four shutouts in a season, but it was all for naught on Saturday. Shields was rocked for seven runs in five-plus innings, with the big blow coming in a five-run fourth.
Shields was spot-on for much of the game, whiffing six batters in all and issuing zero walks, but imploded in the fourth inning, which was complicated by home plate umpire Kerwin Danley's blown call. Danley wasn't biting on calling the low strike, which led to some close calls and forced Shields to elevate his pitches right into the heart of the strike zone. But he began the fourth with a surprising loss of control, plunking
Elvis Andrus
with a pitch.
Josh Hamilton
and
Michael Young
then both singled to load the bases. Shields then plunked yet another batter, this time
Adrian Beltre
. That forced in a run and got
Rangers
fans going, who had so far been silenced by Shields and staring at a 3-0 hole after
Derek Holland
began
the game with his own jitters
. Shields was able to strike out
Nelson Cruz
, but then came the blown call by Kerwin Danley, which was enough to land Danley as the goat of the game.
David Murphy
hit a ball straight down at home plate and
Danley called it foul before the play was even over
. The ball bounced fair, allowing
Kelly Shoppach
to pounce on it and throw Murphy out.. except the play had already been ruled dead. Murphy went on to strike out, but it was in the process of Shields throwing a wild pitch, so Murphy reached while Beltre scored. A RBI groundout by
Mitch Moreland
followed before Shields finally got to walk off the mound after inducing a flyout by
Ian Kinsler
.
It looked like Shields was getting back on track with a clean fifth inning, but two consecutive singles to open the inning sent Shields to the showers. Texas would go on to score twice in the inning, both runs charged to the righty. It was certainly a surprising performance by Shields, who began the game crisp but later unraveled at the seams.
Shields has been here before. Last season, he faced the Rangers in Game 2 of the ALDS as well, and served up four runs in 4 1/3 innings. In that game, Shields' big inning came in the fifth when he allowed a three-run homer to Michael Young and later an Ian Kinsler RBI grounder before his night ended.
Shields lasted longer than he did in 2010, but unfortunately the end result was the same: An ALDS Game 2 loss.
For more baseball news, rumors and analysis, follow @EyeonBaseball on Twitter or subscribe to the RSS feed.