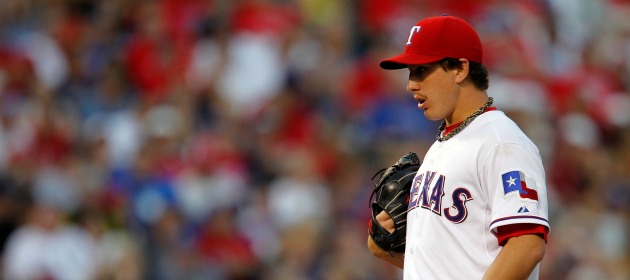 By Evan Brunell

Last season,
Derek Holland
was asked to play an important part of the
Rangers
' run to the World Series, but gave up three runs in 4 2/3 relief innings against the
Rays
before stymieing the
Yankees
in the ALCS, then getting crushed against the
Giants
in two appearances. You could tell that while Holland had loads of potential, he was having trouble putting it all together on a national stage.
It's much the same Saturday in ALDS Game 2, as Holland has coughed up three runs to the Rays through four innings. Only one of those runs was earned, but Holland is still to blame for the other two runs scoring.
Holland started the game by loading the bases in the first inning and issuing a bases-loaded walk, coming unglued after
B.J. Upton
followed
Desmond Jennings
with a double. You could actually see Holland's body language change, and his pitches changed from crisp and around the zone to someone trying to force-feed the ball into a small space and instead throwing obvious balls. The skittishness continued into the second when Jennings doubled to left field with two out, hitting the chalk. A dejected Holland unfurled a wild pitch to send Jennings to second, then threw three straight balls to B.J. Upton on a 0-2 count before finally inducing a flyout. Through two innings, the lefty threw 51 pitches.
The third finally saw Holland's first clean inning of the game, but his inconsistency reared his head again in the fourth. After seemingly finding a groove and recording the first two outs, Holland pounced on a dribbler by
Casey Kotchman
and threw to first. Seeing how Holland didn't set his feet and how he tried to gear up the throw, it was no surprise to see the ball fly low and skip under first baseman
Mitch Moreland
's glove.
Matt Joyce
then made Holland pay with a towering shot to right field to lift Tampa to a 3-0 score after the top fourth.
As mentioned earlier, Holland has loads of potential. In 32 starts, he posted a 2.95 ERA on the season over 198 innings, punching out 162 and walking 67. In his last 15 starts, his ERA was 2.77. The 24-year-old was clearly on the rise, delivering the potential many saw in him for years. Unfortunately, Holland seems to wilt under pressure, but does show signs of eventually putting it all together.
The Rangers may yet be able to bail Holland out, as the club has loaded the bases with no out against
James Shields
. One run has already come in on a hit by pitch, Shields' second of the inning.
Click here to follow the action live on CBSSports.com's GameTracker.
For more baseball news, rumors and analysis, follow @EyeonBaseball on Twitter or subscribe to the RSS feed.