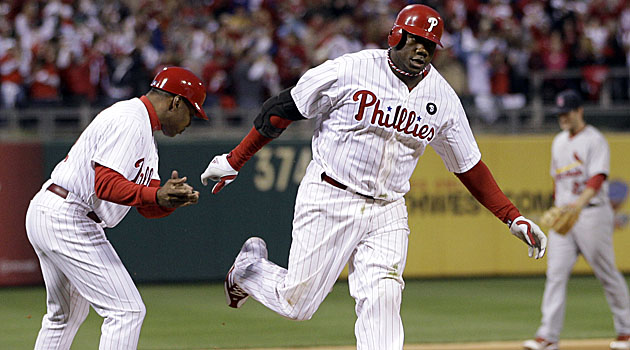 By Matt Snyder
Philadelphia 11, St. Louis 6
WP:
Roy Halladay
LP:
Kyle Lohse
HR:
Lance Berkman
,
Ryan Howard
,
Raul Ibanez
Series:
Phillies
lead 1-0
Hero:
Ryan Howard's three-run home run was a series-altering type blow. He's the easy choice in a team effort. The burly first baseman wasn't bad last postseason (he hit .318 with a .900 OPS in the NLCS), but he was homerless. His last postseason home run came in Game 6 of the 2009 World Series -- a two-run shot off
Andy Pettitte
. In fact, Howard had zero RBI in the 2010 playoffs, too, so that home run against Pettitte marked his last postseason RBI until Saturday's three-run homer (he later added a sac-fly RBI, giving him four on the afternoon). Howard's re-emergence as a postseason run producer very well could propel the Phillies to a series win -- but they still have two more wins to go.
Goat:
Did Tony La Russa -- the king of over-managing -- actually leave Kyle Lohse out there too long? Sure felt like it. Lohse was perfect through three innings and ran into slight trouble the second time through the meat of the order, but escaped with just one unearned run. Still, when he faced Ryan Howard with two on in the sixth, the game hung in the balance. Howard entered the game 8-for-16 with 2 homers and eight RBI in his career against Lohse. Howard is also
much
worse against lefties than righties and has been throughout his career. La Russa had two left-handed options in the bullpen, too, and had to realize Halladay was absolutely locked in at that point. Even if you believe the sixth inning is too early to start playing matchups, Lohse certainly needed to be pulled after allowing the Howard homer. He stayed in, giving up a single to
Shane Victorino
and a home run to Raul Ibanez. There was no recovering from the Howard bomb and Lohse was hanging his change all inning, so he needed to be pulled earlier than he was. Instead, the Phillies had turned a 3-1 deficit into a 6-3 lead in a mere matter of minutes. Things fell apart further from there -- save for a relatively meaningless ninth-inning surge -- and the
Cardinals
face a tall order of winning three of four from the Phillies to take the series.
Next:
10/2 at Philadelphia, 8:37 p.m. ET.
Chris Carpenter
(11-9, 3.45) vs.
Cliff Lee
(17-8, 2.40)
For more baseball news, rumors and analysis, follow @EyeOnBaseball on Twitter or subscribe to the RSS feed.