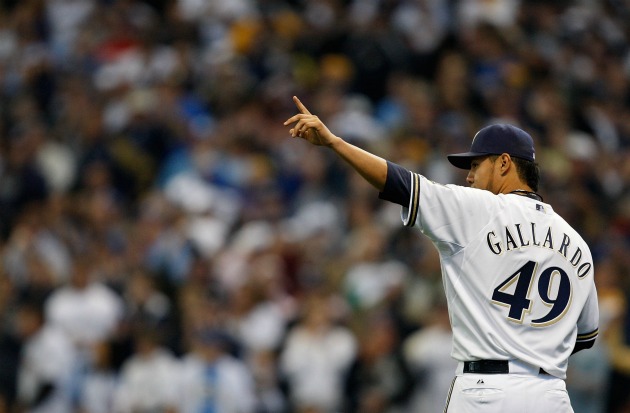 By C. Trent Rosecrans
MIlwaukee spent much of its offseason searching for an ace. Turns out they may have already had one.
While the team added Zack Greinke and Shaun Marcum in big trades before the 2011 season, but it's been Yovani Gallardo, a player the Brewers drafted in 2004, who has been their best pitcher this season. And as good as Gallardo has been this season, he was better on Saturday in the Brewers' 4-1 victory over the Diamondbacks in Game 1 of the National League division series.
Gallardo allowed just a run on four hits while striking out nine in eight innings.
Even with the addition of Marcum and Greinke, Gallardo led Brewers starters in wins (17), ERA (3.52) and strikeouts (207). He trailed only Greinke in xFIP (3.19) and WAR (3.1). So while Greinke wasn't available to start Game 1 after coming back on short rest at the end of the season to clinch home-field advantage, Gallardo was more than up for the challenge to start the first game of the series.
In fact, it wasn't even the 25-year-old's first Game 1 playoff start of his career. Three years ago when CC Sabathia pitched on short rest to give the Brewers the wild card, Gallardo started the 2008 NLDS against the Phillies. He earned the loss, but he only allowed three unearned runs in his four-inning start, while Cole Hamels shut down the Brewers bats.
The Diamondbacks' best chance off of Gallardo came in the first when Willie Bloomquist singled on the first pitch and then after Aaron Hill popped up, Bloomquist stole second. Justin Upton singled to left, but Ryan Braun threw out Bloomquist at the plate. Gallardo then retired the next seven batters he faced. That streak was broken when he recorded his only walk of the game to Aaron Hill starting off the fourth. He retired eight straight before allowing a single. Gallardo then retired the next five before making his only mistake of the game -- a fastball Ryan Roberts hammered for a solo homer in the top of the eighth. Gallardo then went on to strike out the last three batters he faced.
Gallardo finished with just 106 pitches in his eight innings and is now scheduled to pitch again in Game 5 if needed. If it doesn't go that far, the Brewers will feel pretty good when he takes the mound in the next series.
More postseason coverage:
Postseason schedule
|
Brewers-Diamondbacks series
|
2011 playoffs
Video:
Gallardo and
Prince Fielder
discuss the Game 1 victory.
For more baseball news, rumors and analysis, follow @eyeonbaseball on Twitter or subscribe to the RSS feed.