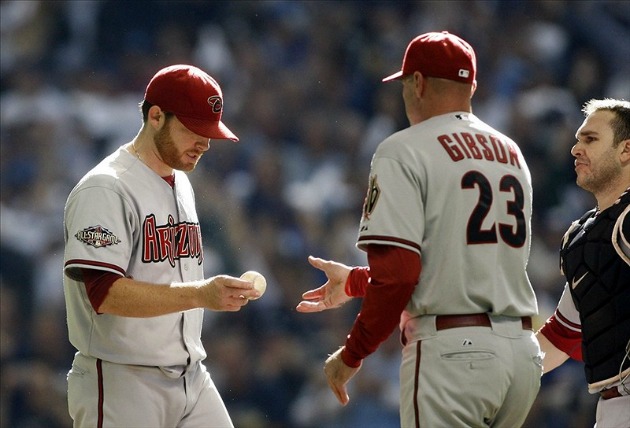 By C. Trent Rosecrans
All year long, the Diamondbacks were lauded for their aggressiveness. The team, it was said, was a reflection of its manager, Kirk Gibson.
Gibson was not only a great baseball player, but he was also an All-American football player at Michigan State. He was known as a player for his football mentality, and he's getting a similar reputation as a manager. The Diamondbacks were sixth in the big leagues in going first-to-third and also second in outs on the basepaths with 75. But on Saturday was he just two aggressive? Three times the Diamondbacks chose to be aggressive -- and all three times it backfired.
• As mentioned earlier, third-base coach Matt Williams sent Willie Bloomquist from second on Justin Upton's single in the first inning. Ryan Braun's throw to the plate was there in plenty of time.
• In the sixth inning, Yuniesky Betancourt tripled with two outs. Instead of intentionally walking catcher and No. 8 hitter Jonathan Lucroy to face the pitcher, Ian Kennedy went after Lucroy, a .265 hitter on the season. Lucroy blooped a pitch out of the zone into left field, allowing Betancourt to score and give Milwaukee a 2-0 lead.
• The the big decision, Gibson left in the hands of his starter. After Ryan Braun's two-out double in the seventh, Gibson went to the mound to deliberate with Kennedy about what the right-hander wanted to do with Prince Fielder. Kennedy told his manager he wanted to go after the Brewers' slugger. After a first-pitch fastball called for a strike, the TBS cameras got a great shot of Fielder smiling, realizing Kennedy was actually going to come after him. The next pitch was a curveball down and in that Brewer crushed for a two-run homer. Coincidentally, it harkened back to the 1984 World Series when Goose Gossage pitched to Gibson, who followed with a homer. In the postgame press conference, Jerry Hairston Jr., said he pointed out the similarities to Fielder after the game. Fielder, who grew up around the Tigers as the son of Cecil Fielder, said he thought of the same play, as well.
The Diamondbacks lost because of these three decisions, but they're also in the playoffs because of that same aggressiveness, that attitude that they need to push and a go for every run they can, but at the same time challenging other teams to beat them. It backfired today, it's just who they are. They'll likely take those chances again, and more often than not they'll work out.

More postseason coverage: Postseason schedule | Brewers-Diamondbacks series | 2011 playoffs
Video: Gibson discusses Kennedy's performance, decision to pitch to Fielder.
For more baseball news, rumors and analysis, follow @eyeonbaseball on Twitter or subscribe to the RSS feed.