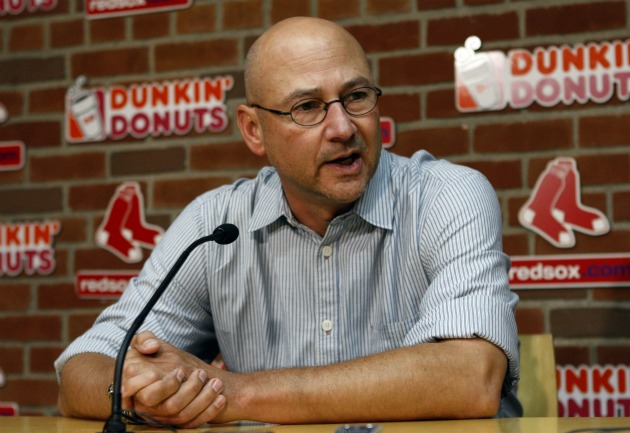 By C. Trent Rosecrans
Former Red Sox manager Terry Francona solidified his reputation as one of the classiest men in baseball with his exit press conference Friday night, noting it was his decision alone to leave the job and refusing to single out any one person or incident for his failings in 2011.
"It was my decision," Francona said when asked about the choice to step away from the job he'd held since December of 2003.
The Red Sox had an option for 2012 and 2013 on Francona at $4.25 million per season, but the management didn't pick up his option. During his press conference, Francona said he had agreed with management not to talk about his contract situation during the season, but did say he felt like he wasn't getting support from the front office and the contract was part of that.
"I was puzzled by that comment," Larry Lucchino said. "We have done nothing differently this year than we have done in the eight previous years."
Francona was asked point-blank if he was asked back on Friday.
"No," Francona said. "We talked about a lot of different things. I think they wanted to know how I felt about coming back, I think that's a fair way to put it. I told them a lot of things were on my mind."
In the end, the last month of the season weighed heavily on Francona. He said he didn't make his decision until after the season ended suddenly on Wednesday night. He wouldn't point out any specifics -- "I'd rather talk about generalities. I'd never single out a player or event. I feel like I was pretty open that I was frustrated," Francona said -- but it was definitely his decision to leave and he was not happy with this team and the direction the team was going.
"It was the last month. The first week of the season was difficult, but I thought we did a good job of getting to the players," Francona said. "This last month, I think a lot of the things, when things go bad your true colors show and I was disappointed in some of the things showing. And as I said, that's my responsibility."

Tom Werner, a member of the team's ownership group, said the team didn't expect Francona to walk away and that he had hoped Francona would reconsider.

"We tried to slow the train a little bit and think about it over the weekend," Werner said. "But as he said, he'd made up his mind."
Francona went out not placing any blame beyond himself, only hinting that he didn't feel like he had support from management, while staying loyal to his players.
There's no doubt that Francona will get another job and get it whenever he wants it. He did nothing to tarnish his legacy or damage his future, all the while sounding sincere. He even got a couple of laughs from the assembled reporters, including once when he was asked about Manny Ramirez -- "Thank you for brightening my day," he said with a laugh.
"It's a little fresh to think of other things," Francona said about his next move, but there's no doubt he'll be fine.
For more baseball news, rumors and analysis, follow @eyeonbaseball on Twitter or subscribe to the RSS feed.