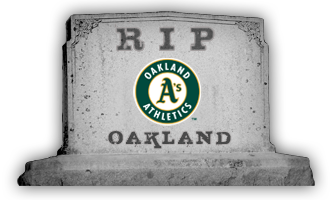 By Matt Snyder
Another season gone, another disappointment for 29 teams as one is immortalized forever. Let's take a look back at 2011 and forward in Eye on Baseball's R.I.P. series...
Team name:
Oakland
Athletics
Record:
74-88, 22 games back in AL West
Manager:
Bob Melvin
Best hitter:
Josh Willingham
-- .246/.322/.477, 29 HR, 98 RBI, 69 R, 26 2B
Best pitcher:
Gio Gonzalez
-- 16-12, 3.12 ERA, 1.32 WHIP, 197 K, 202 IP
With injuries to the pitching staff, more lack of offense, the most exciting thing happening for the A's this season came at the box office, not the ballpark. But hey, I rather enjoyed "Moneyball" -- I'd only advise going to the movie with the understanding that
Tim Hudson
, Mark Mulder,
Barry Zito
, Miguel Tejada and
Eric Chavez
were completely ignored. If you know that going it, it's enjoyable.
2011 SEASON RECAP
They started off losing four of their first five, but didn't give up by any stretch. In fact, the A's were 22-20 and tied for first place in the AL West on May 17. Then a seven-game losing streak sunk them and a week later they began a season-killing 10-game losing streak that cost Bob Geren his job. Bob Melvin took over and went 47-52 the rest of the way. Considering how bad the offense was and that both
Dallas Braden
and
Brett Anderson
were lost for the season, that's pretty fine work and general manager Billy Beane agreed -- giving
Melvin a three-year deal
.
The A's finished 12th in the AL in runs scored. They don't even get on base anymore, as the .311 OBP was also good for 12th in the AL. Meanwhile the staff ERA was the third best in the AL. So it's the same old story in Oakland. They can pitch, but not hit.
2012 AUDIT
If Brett Anderson and Dallas Braden come back strong from injuries, the A's have a very solid 1-5 rotation.
Trevor Cahill
will need a bounce-back season, but Gonzalez and McCarthy figure to be similar to this season. Full seasons out of
Joey Devine
and
Andrew Bailey
will make the bullpen better as well. But they were already good at pitching, as the numbers show. And they're still young enough to count on the staff being good for the next several years. So, just as it has the past several seasons, everything is going to boil down to what the A's can muster on offense. Young
Jemile Weeks
showed he's ready to take over at second base, but many other young players still haven't shown they can be consistent offensive threats at the big-league level. There's promise with the
Chris Carter
/Brandon Allen/Michael Taylor group and some prospects are getting closer to joining the fray. The 2012 season will not be a complete rebuild as much as it will be preparing for 2013.
FREE AGENTS
David DeJesus
, OF
Josh Willingham, OF
Coco Crisp
, OF
Hideki Matsui
, DH
Rich Harden
, SP
Brandon McCarthy
, SP
OFFSEASON FOCUS
The A's have to focus entirely on the offense and should probably make an effort to get younger instead of throwing out a group of veteran cast-offs. Sure, the "Moneyball" movie had the "island of misfit toys" line, but remember, they ignored the strong foundation of youth in place. We can't do that in real life.
Let Harden walk and spend the money on offense. Guillermo Moscoso and the five starters mentioned in the Audit section above give the A's enough rotation depth, not to mention if Tyson Ross can return healthy. Really, let's include the bullpen here. The pitching is fine. Bring back McCarthy and otherwise there's no reason for players outside the organization to even be considered.
Carter has been awful against major-league pitching, but it's only been in small samples with no consistent at-bats. At some point they need to leave him in the lineup for an extended stretch to find out if he's a "quadruple-A" player or not. Likewise, they might as well stick with Allen and Taylor, too, and just go with a youth movement offensively. Between first base, right field and DH, at least two of these three should be in the lineup everyday, in different combinations.
Shortstop prospect Grant Green is going to be ready for a look soon. He hit .291/.343/.408 in Double-A. Cliff Pennington will hold down the fort in the meantime.
With Hideki Matsui likely to be retained, there is very little reason for the A's to bother with David DeJesus. They need to see what Taylor and Carter can do. When Matsui needs the occasional off day, you have all three young sluggers in there.
I would bring Willingham back. He and Matsui can provide veteran stability to the middle of the order so that there isn't any extra pressure put on the younger guys.
If anyone from outside the organization is brought in, it needs to be an on-base guy. They tried to go with patchwork quasi-power hitters and didn't work. You can't score runs if you aren't getting on base, so it's time Beane's A's go back to their roots.
How long until Michael Choice is ready? The A's 2010 first rounder was in High-A this season, but he hit 30 home runs with a .918 OPS. Better yet, he's a center fielder, which they'll need soon. Maybe bring back Crisp for one more season to bridge the gap?
If everything breaks right, the A's could be a serious AL West contender in 2013. The pitching staff is young and good. The offense could very well be respectable again with proper development from Weeks, Taylor, Choice, Green, Allen and Carter to go with
Kurt Suzuki
as a future nucleus. Plugging in veterans would only hinder the youngsters.
For more baseball news, rumors and analysis, follow @EyeOnBaseball on Twitter or subscribe to the RSS feed.