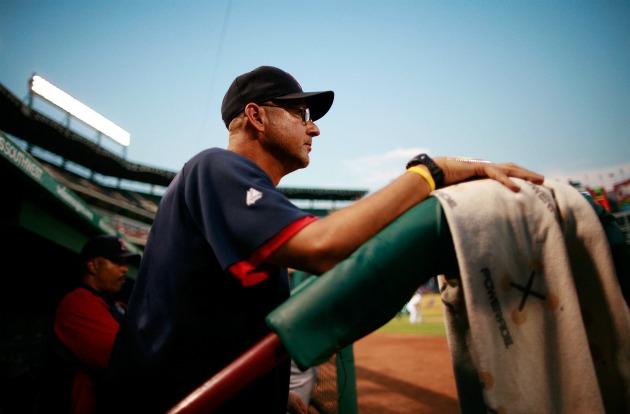 By C. Trent Rosecrans
Terry Francona is officially out in Boston, but he won't have a tough time finding a new job if he wants one. Despite being the scapegoat for the Red Sox collapse, where could he end up?
Here's a couple of possible landing places for the former Red Sox (and Phillies) manager:
White Sox: This has been the hot rumor, but word is the team isn't looking to spend big money on its next manager, especially after shedding Ozzie Guillen's contract. There is one exception to that, but more on that in a minute. Still, the White Sox do have a history with Francona, who started his coaching career in the White Sox organization and was the manager of Double-A Birmingham when Michael Jordan tried his hand at baseball.
Cubs: Now, this Chicago team could spend big money on a big-name manager and Francona would certainly fit the bill. The team hasn't gotten rid of Mike Quade yet, but whatever new general manager comes in will likely want his own man in the dugout. The Red Sox collapse makes a Theo Epstein exodus to Chicago less likely, but the Cubs could still get some of the curse-breaking magic with Francona. Francona played for the Cubs and is no stranger to Chicago, having spent time in the White Sox organization.
Orioles: This possibility has been brought up, but even if Buck Showalter decides to move upstairs and open the managerial position, it's more likely Showalter brings in his own guy (like maybe Don Wakamatsu).
Cardinals: This is another remote chance, but it's an interesting thought. If the White Sox do pony up and go for a big name, the first choice would be Tony La Russa. The Cardinals manager is unlikely to leave St. Louis for another job (and has repeatedly said this would be his last managerial job, but it certainly wouldn't be the first time La Russa said one thing and did the other), but he and White Sox owner Jerry Reinsdorf have a good relationship. If Albert Pujols leaves St. Louis, La Russa may want out of town, as well. If he does leave, Francona would be a great fit in St. Louis.
Nowhere: It doesn't seem like there will be a ton of turnover in the managerial ranks this offseason, so Francona could just spend some time away from the game and wait for the perfect job opening next year or even later.
For more baseball news, rumors and analysis, follow @eyeonbaseball on Twitter or subscribe to the RSS feed.