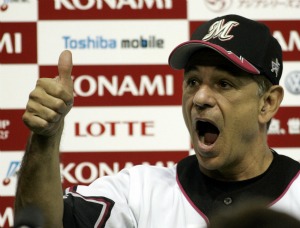 By C. Trent Rosecrans
So, Terry Francona is out in Boston… who's next?
Here's several ideas:
Bobby Valentine: For the first time in a long time, he's not the heir apparent in Miami, as Ozzie Guillen has become the latest manager Jeffrey Loria is itching to fire. Valentine, 61, is currently an ESPN announcer, but he's managed the Rangers and Mets, as well as two stints as the manager for Japan's Chiba Lotte Marines. In MLB, Valentine has a record of 1,117-1,072 and appeared in one World Series, losing to the Yankees as the Mets skipper in 2000.
DeMarlo Hale: It wouldn't be sexy, but it would be a link to the recent regime in Boston. Hale has served as Francona's bench coach the last two seasons and was previously the team's third-base coach. Last year he interviewed for the Blue Jays job, which went to then-Red Sox pitching coach John Farrell. However, he could be seen as too close to the former regime and not enough of a change.
Joe Torre: If you want a big name, there are few bigger in managerial circles. However, there's questions whether the 71-year-old would want to manage again and even as well as he put up with the madness that is managing the Yankees, why would he want to enter another circus? He also didn't exactly light the world on fire as the Dodgers' manager.
Dave Martinez: The Rays bench coach is going to be one of the hottest names in potential managerial searches until he gets a gig. He's served as Joe Maddon's bench coach since 2008. Martinez retired in 2001 after 16 seasons in the big leagues.
Pete Mackanin: The Phillies bench coach has been an interim manager twice, in Pittsburgh in 2005 and in Cincinnati in 2007. He's been the Phillies' bench coach the last three seasons. Mackanin may not be seen as a big enough name for the Red Sox.
Don Wakamatsu: The former Mariners manager was the Blue Jays' bench coach last season. Wakamatsu had a strange exit in Seattle after what seemed like a players' revolt. He failed to get along with some of his players in Seattle, and with talk of problems in the Red Sox clubhouse during the last month of the season, Wakamatsu's past could be a red flag.
Eric Wedge: The current Mariners manager has been mentioned, but he's under contract and the Mariners seem happy with him. It doesn't make sense for the Mariners to let him go to Boston.
For more baseball news, rumors and analysis, follow @eyeonbaseball on Twitter or subscribe to the RSS feed.