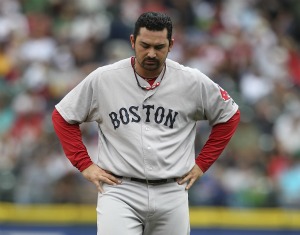 By C. Trent Rosecrans
There's no shortage of scapegoats for Boston's historic collapse -- you can choose Terry Francona, Theo Epstein, Carl Crawford, Marco Scutaro, Jonathan Papelbon, Daniel Bard or any of the team's starters -- but Adrian Gonzalez would like to add ESPN to the list.
"We play too many night games on getaway days and get into places at 4 in the morning," Gonzalez told Peter Abraham of the Boston Globe. "This has been my toughest season physically because of that. We play a lot of night games on Sunday for television and that those things take a lot out of you."
Abraham said he noted to Gonzalez that's part of playing for a high-profile team.
"Why does it have to be?" Gonzalez responded. "They can put the Padres on ESPN, too. The schedule really hurt us. Nobody is really reporting that."
Of course, the Yankees are on national TV quite a bit too, so that hurts that argument.
And, well, Adrian, you're a smart guy -- you know why the Red Sox are on more than anyone? For the same reason they can pay you $154 million over the next seven years, because they're popular.
In August, the team's three-game series drew record ratings for MLB Network, Fox and ESPN. If you want to be less popular, you may want to play for a different team and accept a smaller paycheck (may I suggest the Padres? San Diego is beautiful this time of year -- and every time of the year, really.)
Gonzalez isn't alone among Red Sox hoping for less national games featuring his team. At the All-Star Game, I asked Boston's Kevin Youkilis about just how much you see the Yankees and Red Sox (at about the 2:30 mark).
Oh, Gonzalez had someone else to blame, too -- "God didn't have it in the cards for us," he told Abraham. But hey, at least nobody still hanging on to the idea of a curse, so maybe this is an improvement.
For more baseball news, rumors and analysis, follow @eyeonbaseball on Twitter or subscribe to the RSS feed.