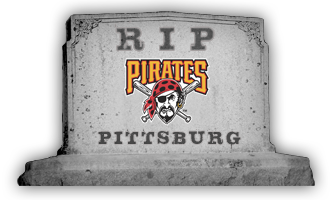 By Evan Brunell

Another season gone, another disappointment for 29 teams as one is immortalized forever. Let's take a look back at 2011 and forward in Eye on Baseball's R.I.P. series...
Team name:
Pittsburgh
Pirates
Record:
72-89, 23 games back in NL Central
Manager:
Clint Hurdle
Best hitter:
Andrew McCutchen
: .260/.366/.459, 23 HR, 23 SB, 5.7 WAR
Best pitcher:
Joel Hanrahan
: 1-4, 68.1 IP, 1.83 ERA, 2.98 xFIP, 61 K, 16 BB, 40 SV
The Pirates entered 2011 knowing that a 19th straight losing season was going to happen. What they didn't know, however, was how badly their hearts would be ripped out of their chest accomplishing the feat. The Pirates have been a non-factor for almost two decades now, and only recently started to turn things around under the stewardship of GM Neal Huntington. While Huntington has improved the team, it's also been set back by a fruitless bounty for trading
Jason Bay
, and no pitchers really emerging as a bona fide ace.
2011 SEASON RECAP
The Pirates began 2011 by taking the opening game against the
Cubs
. The team would go on to finish April with a losing record, but it was just 13-15. The club was buoyed by
Charlie Morton
taking to his new delivery, emulating
Roy Halladay
, and posting a 3.00 ERA in five starts. Morton kicked into gear in May, though, with a 2.06 ERA in five starts, and so did the Pirates, splitting their games evenly for a .500 month. The best was yet to come, with a 16-13 June that put them on the map. Pittsburgh wouldn't stop winning, reaching seven games over .500 on July 19. That spurred the club to acquire
Ryan Ludwick
and
Derrek Lee
at the trade deadline.
And then, collapse. All that needs to be said is what the
Pittsburgh Tribune-Review
found from the Elias Sports Bureau:
In the modern history of Major League Baseball that began in 1900, no team has fared worse than these Pirates after holding first place through 100 games. Actually, no team has even come close. The Pirates' 16-40 record down the stretch makes for a .286 winning percentage. Next-worst was the 1977 Chicago Cubs, who went 60-40 to lead their division through 100 games, then went 21-41 for a .339 winning percentage.
2012 AUDIT
The Pirates will enter 2012 staring at the prospect of a 20th straight losing season, and the team understandably wants nothing to do with that. A major priority will be shoring up the rotation.
Jeff Karstens
and Charlie Morton appear to have pitched over their head and the team has gotten away with surprising health in the rotation as well, something that can't be counted on to repeat as well. On offense, the team has some amount of flexibility, but also needs to count on the core of McCutchen,
Neil Walker
,
Jose Tabata
and
Pedro Alvarez
to deliver.
Even as motivated as the team is to make upgrades and finish with a winning record, there is always the issue of money, which the team doesn't have in spades. Fortunately, though, the club is committed to less than $10 million in 2012, and only Hanrahan and Karstens figure to make leaps in salary through the arbitration process. Only
Evan Meek
and Charlie Morton are other arbitration-eligible players of consequence, and they won't earn a significant amount in their first year of eligibility. However, Huntington said 2012 will be about the young players, which makes complete sense. This is a team in the middle of building -- you don't just scrap that entirely. What the Pirates need to do is build around their young players.
FREE AGENTS
Ronny Cedeno
, SS (club option)
Ryan Doumit
, C
Derrek Lee, 1B
Ryan Ludwick, OF
Chris Snyder
, C (club option)
Paul Maholm
, SP (club option)
OFFSEASON FOCUS
There are . The Pirates need to shore up their rotation by bringing in another starter -- and this is on top of Maholm. If Maholm leaves, the wish list grows to two. In addition, the team really needs a better option at shortstop than Ronny Cedeno. He may be able to pick it, but he just can't hit. The team also needs a brand-new catching corps. Other than that, the prudent thing to do is allow this club to grow together.
The Pirates need to pick up Paul Maholm's $9.75 million club option. Maholm bounced back from a poor 2010 to post a 3.66 ERA over 26 starts. The 29-year-old isn't a great starter, but if he hit the free agent market, would receive a fairly hefty deal. The Pirates here have an opportunity to keep a vital cog of their rotation for just one more year. The ability to retain Maholm for only one year is worth the premium of a couple more million than he might otherwise get in free agency, as it will allow the team an extra year of evaluation, as well as the opportunity to trade him.
Although returning Maholm would seem to stuff the rotation with Maholm, James McDonald, Kevin Correia, Karstens and Morton, the team needs to build its pitching depth and shouldn't feel beholden to Correia to keep a rotation spot warm for him. The top names on the market in C.J. Wilson and Edwin Jackson don't figure to be interested, but there are other mid-rotation starters that would entertain Pittsburgh. Bruce Chen appears poised to get a solid two- or three-year deal from a club after two straight successful years in Kansas City. He's not a sexy name, but he would hold up well in the middle of the rotation and outperform Correia.
Decline the team option on Chris Snyder for $6.75 million and resign him. Before Snyder's season ended due to back problems, he was hitting .271/.376.,396. That's pretty good production, and Snyder can work his way back off the bench while giving the club a catcher with some familiarity with Pirate pitchers. The catcher's market in free agency is quite poor, and it's hard to imagine Ramon Hernandez picking Pittsburgh out of his suitors. The team could luck into Rod Barajas, but will most likely have to take a risk and sign someone like Kelly Shoppach or even bring Doumit back.
Resign Derrek Lee. This may not be easy to pull off as Lee probably won't want to return, but the Pirates need to try. Lee hit .337/.394/.583 and Clint Hurdle has already said he wants Lee back. Lee can provide veteran presence and leadership on a young team, which it desperately needs to adapt the right frame of mind toward finishing at least 81-81. If Lee won't return, the team should go after Carlos Pena. He's another player with a fantastic reputation who can pick it at first base defensively.. He can't hit for average, but can hit balls a far way.
Shortstop is the main area, and the Pirates really need to focus on adding value here. If Marco Scutaro hits the market, Pittsburgh should call him up with a two-year deal and hand him the starting shortstop gig, which would be enough to attract his attention. Given Scoot's hot end to the season, though, he would likely find a better opportunity. Clint Barmes would be a solid acquisition -- a rich man's Ronny Cedeno. (No, Jose Reyes won't happen.) Pittsburgh would be better served to go the trade route and try to find a better long-term option. If the Angels grab Reyes, the Pirates could deal for Erick Aybar, or take fliers on Alexi Casilla or Everth Cabrera. Finding a new shortstop won't be easy, but the Pirates need to do what they can to upgrade the position.
For more baseball news, rumors and analysis, follow @EyeonBaseball on Twitter or subscribe to the RSS feed.