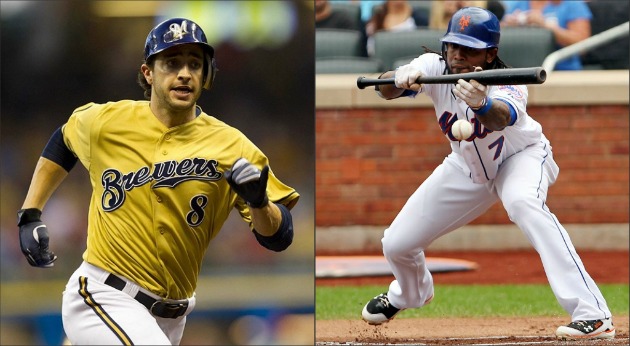 By C. Trent Rosecrans
With Jose Reyes pulling himself from Wednesday afternoon's game against the Reds, Brewers outfielder Ryan Braun knew exactly what he needed to do in the final game of the season to secure his first-ever batting title -- get three hits. He didn't manage one.

Braun went 0 for 4 on Wednesday, leaving his average at .332149, nearly five points behind Reyes.

Reyes left Wednesday's victory over the Reds in the first inning after his bunt single gave him an average of .337058. Braun entered Wednesday night's game with an average of .334526.
Reyes, whose first-inning bunt single gave him an average of .337058, was immediately pulled from the game for a pinch-runner in the Mets' victory over the Reds. Braun entered Wednesday night's game against the Pirates with an average of .334526.
While many (including our own Evan Brunell) weren't too fond of Reyes' tactic, Braun was nonplussed.
"I don't think it really matters about what the ethics of it are," Braun said before Wednesday's game (via the Milwaukee Journal Sentinel). "I respect whatever decision he decided to make. Ultimately he left the door open for me. It's not impossible. I've gotten three hits in a game plenty of times.
"It's still attainable; it's still a possibility. If he had stayed in the game and gotten multiple hits, it may not have been a possibility at all. I'm not really here to judge him."
In the end, it appeared to help Reyes more than hurt him, as the Mets shortstop will won his first batting title -- just in time to test free agency.

"I just want to say I'm humbled and honored to win the batting title," Reyes said in a statement released by the Mets. "It means so much to my family and my country, the Dominican Republic. I have been through a lot over the past few years so this really means a lot to me. It's also very special to be the first Mets player to win a batting title. There have been so many great players throughout our history. I want to thank Terry Collins, my coaches and all my teammates and of course all the Mets fans who have always supported me and been behind me 100 percent."
For more baseball news, rumors and analysis, follow @eyeonbaseball on Twitter or subscribe to the RSS feed.