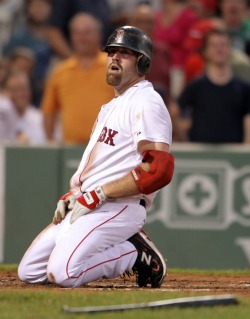 By C. Trent Rosecrans
No matter how many games the Red Sox have remaining, they'll likely play those games without Kevin Youkilis. The team placed Youkilis on the 60-day disabled list before Wednesday's game with the Orioles.
"The writing is kind of on the wall," Red Sox manager Terry Francona told reporters before Wednesday night's game (via the Providence Journal). "I don't think you're going to see him play again. I wish he would, and he's tried so hard and he's been open to doing anything. I just don't know (if) that's going to happen."
Youkilis has been sidelined by myriad injuries this season, including a sports hernia that will require off seasons surgery. He's also suffered from back and hip injuries, limiting to 120 games this season. The 32-year-old moved back to third base from first base with the team's addition of Adrian Gonzalez in the offseason. He is signed through next season with a team option for 2013.
Youkilis had his worst statistical output in years, with his average (.258) reaching its lowest point in his career, and his on-base percentage (.373) the lowest since his rookie year. He finished with an OPS of .833 and an OPS+ of 123, while hitting 17 homers and knocking in 80 runs.
Youkilis actually played in more games in 2011 than he did in 2010, but last season's main injury was a torn thumb tendon, while the tight, back and hip injuries of this season seemed to be more lingering and hurt his performance on the field. Part of me wonders if the more grueling defensive position at third base had something to do with his problems? If so, do the Red Sox run him out there again next year and just hope his body is more used to the pounding or that they just have better luck? There's no way you supplant Gonzalez. If the team doesn't re-sign David Ortiz, he could DH, but it seems unlikely to see Big Papi in a different uniform anytime soon.
With that, do the Red Sox deal Youkilis to one of the teams that lose out on Prince Fielder or Albert Pujols? He's not cheap, but he's not as expensive as those guys. Youkilis has already talked about playing somewhere other than Boston in the future, perhaps he's seen the handwriting on the wall. And maybe, just maybe, he's already played his last game for the Red Sox. At the very least, it seems like he's played his last game for them this season.
For more baseball news, rumors and analysis, follow @eyeonbaseball on Twitter or subscribe to the RSS feed.