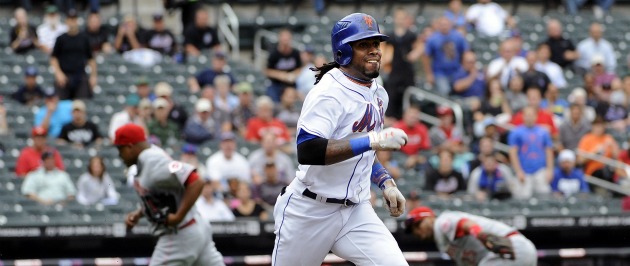 By Evan Brunell


The
Mets
never fail to make hare-brained decisions, and the last day of the regular season was no exception.
In what could have been
Jose Reyes
' final Mets game, he only had one at-bat, reaching on a bunt single to lift his batting average to .337. Reyes is currently chasing the NL batting crown, with
Ryan Braun
hot on his tail. So what did the Mets do?
They pulled Reyes.
That's right -- in an attempt to win the batting crown, the Mets pulled one of the few franchise players the team has ever had. Reyes didn't even finish out his time on the bases -- he was immediately yanked after reaching, much to the fans' displeasure. Now, the last memory Mets fans will have of Reyes is that of booing him.
The horrid decision by the Mets leaves fans without an ability to see Reyes play a full game... all at the expense of winning the
batting average
category. As if batting average matters these days. There's a reason there hasn't been much coverage of the chase for the batting title down the stretch, with
Matt Kemp
's potential Triple Crown chase only lifting the discussion into national consciousness for a brief moment.
To be fair, the Mets may have pulled the shortstop at Reyes' request. You can understand where Reyes might have been coming from -- he's capping off a sensational season with a potential batting title which will only improve his chances of a big contract in free agency. In addition, let's be honest -- 30 years from now, Reyes would remember and appreciate his batting titie far more than he would playing in a meaningless final game.
The only problem, again, is that this may be Reyes' final game as a Met. Shouldn't fans get a chance to watchs omeone who brought them much joy over the last nine season?
The
Rangers
'
C.J. Wilson
knows exactly where he stands calling the move "bush league!! Make him play. People pay a lot of money for tickets"
on Twitter
.
"Seriously people- taking out a star player to preserve his batting average lead...weak! I hope ryan braun goes 5- 5 and wins the title now,"
Wilson added
.
For more baseball news, rumors and analysis, follow @EyeonBaseball on Twitter or subscribe to the RSS feed.