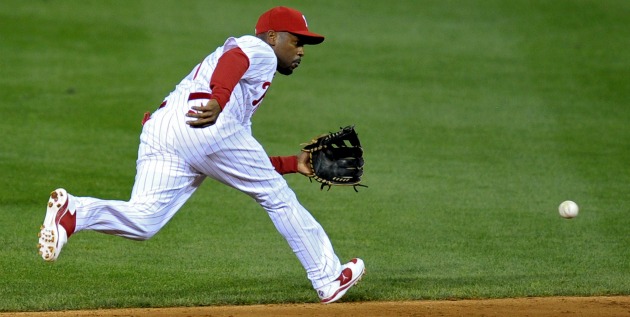 By Evan Brunell

Jimmy Rollins
wants a five-year deal and if he has to the leave the
Phillies
, so be it. But any more than that, and Rollins hesitates.
"Five would be great. Five would be the number,'' Rollins told Sports Illustrated. "I don't think I want six or seven. You start thinking about 39 (years old). Do I want to play at 39?''
Rollins, 32, bounced back from two straight lousy seasons in which he hit .248/.304/.406, missing half the 2010 season with leg problems. He's rebounded this year, and while he's no longer a MVP-caliber player he is still a strong shortstop, contributing a .268/.338/.396 line which is above-average in today's offensively-starved culture. He's also held up favorably on defense after hamstring problems sapped much of his 2010, but there is question to believe just how much longer Rollins has left. And it will be surprising if there's a team out there that believes Rollins can handle a five-year deal.
A source tells SI.com that the Phillies would prefer to keep any deal to three years, which is completely understandable. The club does understand that it may have to pay a little over actual value for Rollins given his star stature, but they are one of the few teams that can afford to do so. In a poll, Jon Heyman found a baseball executive believing Rollins could get $58 million for four years on the free-agent market, while another projects a Phillies contract of three years with a minimum of $12 million a year. Currently finishing up a five-year, $40 million deal, it's clear Rollins will crack the eight-figure annual salary for the first time.
Philadelphia needs to be concerned about the market for Rollins. It's going to be a thin free-agent market, which can only help Rollins. Plus, finding good help at such an important position is an extremely difficult thing to do. Just ask the
Red Sox
, who have cycled through a dizzying amount of shortstops ever since trading Nomar Garciaparra.
One other team that could use a settled shortstop position is the
Giants
, which
CC Sabathia
mentioned as a potential landing destination for Rollins. People are giving this proclamation a lot more weight than usual because Rollins and Sabathia are close, and the shortstop accurately predicted Sabathia would sign with the
Yankees
prior to the 2009 season, even when the prevailing wisdom was that Sabathia would not. However, it seems as if Sabathia only mentioned the possibility, not the certainty, so there shouldn't be too much read into this just yet.
But it's still possible, as Rollins won't be afraid to leave town.
"Right now there is no better place to play baseball, especially in the National League,'' Rollins said "With that being said, I've been here since I am 17. I never thought of going anywhere else. But am I afraid to leave? Not at all. Nothing's permanent. I don't get caught up to the point where it's either this or nothing.''
For more baseball news, rumors and analysis, follow @EyeonBaseball on Twitter or subscribe to the RSS feed.