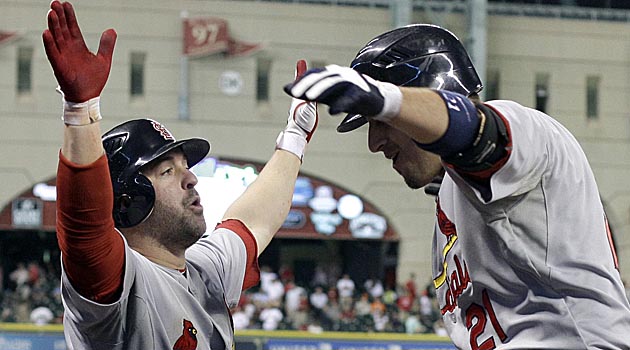 By Matt Snyder
Just
as is the case in the American League
, 161 games isn't enough to decide the NL wild-card winner. After the
Braves
were destroyed by the
Phillies
,
7-1
, the
Cardinals
came through with a
come-from-behind victory
. Both teams now have an 89-72 record with just one game to play, even if they've arrived at that record in much different ways. The Braves are limping into Wednesday with a 9-17 September record. The Cardinals, meanwhile, are 17-8 in the month. Since August 25, the Cardinals have made up 10 1/2 games on the Braves, so this is an epic comeback. The whole season counts, though, so everything comes down to one final game ... unless they both win or both lose. Then we get one more. As an aside, this is where baseball gets it right. There aren't tiebreakers off the field. You decide who gets in on the field.
If they're still tied after Wednesday night's action,
a one-game playoff will be played in St. Louis Thursday night
. Let's check out the pitching matchups for Wednesday's action.
Phillies at Braves, 7:10 p.m. ET
Tim Hudson
(16-10, 3.23) gets the all-important start for the reeling home team. He's the best healthy starter the Braves have at this point, as three of their nine wins this month came in his starter. So things have worked well on at least one front for them. The bad news is last time Hudson faced the Phillies, he was knocked around a bit and took the loss. He's been OK in three starts against the Phillies this year, though, as he's got a 3.48 ERA and 1.31 WHIP in 20 2/3 innings.
Joe Blanton
(1-2, 5.03) is Hudson's counterpart for the night. He's only made one start since returning from injury and was limited on a pitch count. He worked two innings, allowing only a hit and striking out three. Expect the Phillies to take a Johnny Wholestaff approach like the
Yankees
will against the
Rays
. The Phillies aren't playing for anything other than health and sharpness. It's possible many regular starters are rested as well, though they won't play again until Saturday. Still, this game should be ripe for the Braves' taking.
Cardinals at Astros, 8:05 p.m. ET
Chris Carpenter
(10-9, 3.59) takes the hill for the Cardinals. He is locked in right now, too. In his past four starts, Carpenter has a 1.45 ERA in 31 innings. He shutout the
Brewers
and threw eight scoreless innings against the Phillies during that stretch. Carpenter's only faced the Astros once this season, when he went seven innings and allowed just two runs on eight hits. He has a 2.87 ERA and 1.06 WHIP in nine career starts at Minute Maid Park.
Brett Myers
(7-13, 4.31) is the Astros' starter. Before Cardinals fans get all giddy, here's Myers' line in September: 4-0, 1.23 ERA, 0.82 WHIP and 21 strikeouts in 29 1/3 innings. So he's throwing the ball better than he has all season right now. He hasn't faced the Cardinals since July 26, but he threw eight innings and allowed just three earned runs, taking the hard luck 3-1 loss that day. He was shelled in his previous outing against the Cardinals this season, though, while
Albert Pujols
,
Skip Schumaker
and
Matt Holliday
sport gaudy career stats against him. So the pitching matchup is a tossup on paper. The Cardinals, however, have a much better offense and are playing for the postseason.
So if I had to predict, I'd say we're headed for a one-game playoff after both the Braves and Cardinals win Wednesday. But you can't predict baseball. One game left and anything can happen with these two teams. This is what it's all about.
For more baseball news, rumors and analysis, follow @EyeOnBaseball on Twitter or subscribe to the RSS feed.