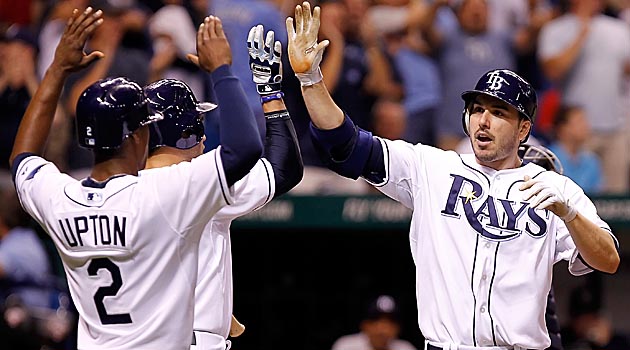 By Matt Snyder
It all comes down to the last day of the regular season. After 161 games, the
Rays
and
Red Sox
have the exact same record.
Tampa Bay took care of business Tuesday night
, and
Boston followed suit
. The two ballclubs couldn't have possibly had different Septembers, as the Red Sox are now 7-19 and the Rays are now 16-10 this month, but the whole season counts, and they're both 90-71 overall now.
Let's take a look at the pitching matchups for Wednesday. Remember, if the the Rays and Red Sox are still tied after Wednesday's action,
a one-game playoff will be played Thursday at Tampa Bay
(yes, it's in St. Petersburg, but I said
Tampa Bay
, not Tampa).
Red Sox at Orioles, 7:05 p.m. ET
Jon Lester
(15-9, 3.49) is going on three days' rest, which he hasn't done all season. Of course, he was knocked from the game last time out after just 55 pitches, so fatigue shouldn't be a big issue. The real problem is he's been bad the last three times out. He's sporting a 10.54 ERA while allowing opposing hitters to have a .362/.433/.569 line against him since his last win (September 6, when he was brilliant). Lester's only faced the Orioles once this season and that was all the way back in April -- he allowed just two runs in eight innings and picked up a win. He does have a great history in Camden Yards, as he's 7-0 with a 2.47 ERA and 1.15 WHIP in nine career starts there.
Alfredo Simon
(4-9, 4.85) will take the hill for the O's. The Red Sox battered him for eight hits and three earned runs in 4 2/3 innings earlier this season. It was his only career start against Boston. He has pitched better at home in his career than on the road, but this matchup still obviously favors the Red Sox. Of course, the Orioles are playing much better baseball this month (14-13) than the previous several months and anything can happen in any given game.
Yankees at Rays, 7:10 p.m. ET
David Price
(12-13, 3.35) gets the ball for the Rays. He's pitched much better than the won-loss record indicates. In fact, his WHIP, K/9 and BB/9 are all improved since last season, when he finished second in Cy Young voting. He hasn't been good against the Yankees this year (4.26 ERA in four starts), but last time he saw them he went eight innings and allowed just one run in a Rays' win. And there's no telling how many regular starters the Yankees rest in a meaningless game.
The Yankees don't have an announced starter yet, and it's expected to be a group outing. "Johnny Wholestaff" is the listed pitcher name in situations like this to baseball people. The Yankees have to worry about setting up for the postseason, which begins Friday, and won't be using top relievers like
Mariano Rivera
or
David Robertson
, either. Basically, you never know what's going to happen in a given baseball game, but the Red Sox had better win if they want a chance at the postseason. This one should be very winnable for the Rays.
For more baseball news, rumors and analysis, follow @EyeOnBaseball on Twitter or subscribe to the RSS feed.