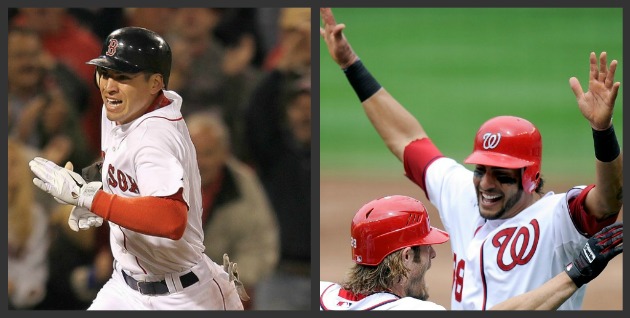 By Evan Brunell


There's been plenty of discussion recently on who should win the awards baseball will hand out after the postseason. There are no shortage of opinions on who should grab the MVP or the Cy Young Award, to say nothing of Rookie of the Years, Gold Gloves and Comeback Player of the Year. But where's the category that rewards players who broke out? There hasn't one ... until now. Here's a top three, followed by two others.
Eye on Baseball will chronicle the five top candidates per league for the Breakout Player of the Year. It's important to keep in mind the separation between a breakout and a comeback. By its very name, to win the Comeback Player of the Year, you have to have "come back" from something. Breaking out has no such restrictions. Who had a season for the ages that has most adjusted a player's value for the better? Last season,
Jose Bautista
would have ran away with this award in the AL. Who takes the top spot this year?
1. Jacoby Ellsbury, Red Sox
: Surprised? Don't be. Ellsbury is by all accounts one of the three top candidates to win the AL MVP award alongside Bautista and
Justin Verlander
. Just a year ago, Ellsbury played in just 18 games, struggling with fractured ribs suffered in an early-April crash. His commitment and toughness were called into question, and the 28-year-old was entering a make-or-break year. Safe to say he made it, with a .323/.378/.552 line with 31 homers and 38 steals, becoming Boston's first-ever 30/30 man. By Wins Above Replacement, Ellsbury has more than doubled his previous best season of 2008, his first full season in the bigs.
2. Doug Fister, Tigers
: Last season, I picked up Fister in a fantasy baseball league midway through the season. That's how poorly he was thought of -- he was an injury replacement halfway through the year, even though he finished the season with 28 starts and a 4.11 ERA. While Fister displayed strong command, he didn't strike out many batters and averaged 88-mph on his fastball without a true out pitch. He wasn't considered a pitcher worth caring about. Except this year, his fastball velocity has ticked up and his slider has developed into a weapon. Then, he got traded to Detroit where he's gone bananas, giving Fister a total season ERA of 2.83 in 216 1/3 innings. Now, Fister is Detroit's No. 2 starter in October and no one thinks that's odd. So, yeah: Breakout.

3. Alex Avila, Tigers
: Fister's new batterymate in Detroit had a season truly out of nowhere. At least Ellsbury was a former first-round pick dripping with talent while Fister had previous success in the majors. Avila, though, struggled to a .228/.316/.340 line in 333 plate appearances last season. Certainly lower than his minor-league average line of .280/.373/.424, but even that didn't portend what was coming. In 2011, Avila was one of the best catchers -- strike that, one of the best
players
-- with a .298/.391/.513 mark in 543 PA, banging 33 doubles and 19 HR.
Also deserving:
Alex Gordon, Royals
: One compared to George Brett, it took Gordon five years and a position switch, but he's finally delivering on his promise with a .303/.376/.502 figure.
Brandon McCarthy, Ahtletics
: McCarthy had one of the best seasons a pitcher could have, dodging his way through a couple bumps and bruises to post a 3.32 ERA in 25 starts, allowing just 1.5 walks per nine and striking out 6.5. That's Doug Fister-ian. And just like that, the A's have yet another good pitcher.
---
1. Michael Morse, Nationals
: Morse followed in Jose Bautista's footsteps by hinting toward a breakout season, slamming 15 homers in part-time duty. But a 30-homer season? That was tough to envision, and yet the 29-year-old broke out this year with just that and added to it by hitting .303. Now the Nationals have a fearsome middle-of-the-order bat at minimal charge and the ability to play either first base or left field. Morse's development is for real, and his power is here to stay.
2. Ryan Vogelsong, Giants
: You had to know Vogelsong would land on this list. And why not? Vogelsong didn't throw one major-league pitch for
four years
before casually throwing up a 2.71 ERA over 179 2/3 innings this season. From 2000-06, Vogelsong was nothing short of an awful pitcher, so this is absolutely a breakout in every sense of the word ... and he began the year as a 33-year-old. His peripherals are strong enough that you can expect the fun to continue next season.
3. Ian Kennedy, Diamondbacks
: The former
Yankees
top prospect has found a home in Arizona, following up a solid 2010 with a sublime 2011 that should get him some Cy Young Award votes. Kennedy's soaked up 222 innings, posted a 21-4 record and a pristine 2.88 ERA, striking out 198 while at it. That's a fantastic pitcher through and through. While Kennedy may not have been ready for the AL East when he was with the Yankees, he'd certainly do just fine anywhere the way he's come along.
Also deserving:
Cameron Maybin, Padres
: Maybin struggled for consistent playing time for years in Florida and finally got his chance with San Diego. His overall numbers are depressed because he plays in Petco Park, but his defense more than makes up for it. To give you an idea of how good he has been offensively, here are his road numbers: .294/.349/.457. Safe to say the Pads picked the pocket of Florida here.
Yadier Molina, Cardinals
: Molina is a great defender with a fantastic arm. We all know that. He's also, for the first time in his career, been a significant contributor on offense with a .306/.349/.469 line, punching 32 doubles and 14 homers. It's power never seen before from Yadier.
For more baseball news, rumors and analysis, follow @EyeonBaseball on Twitter or subscribe to the RSS feed.