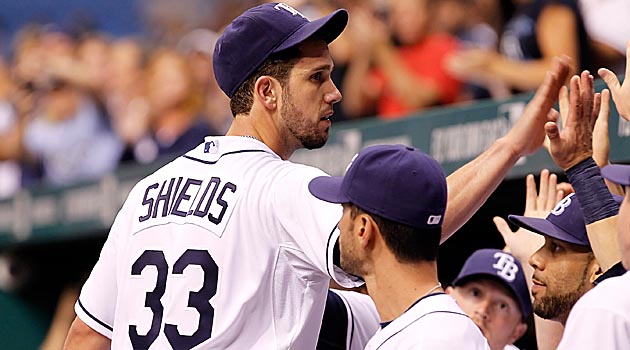 By Matt Snyder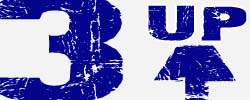 James Shields, Rays.
One of the biggest surprises in all of baseball this season went out and got the job done when his team needed him most. Yes, the Rays got some big offensive and defensive (hello,
Desmond Jennings
) plays, but Shields nearly completed another game and gave his boys the chance to win it. They trailed 2-0 early, but then Shields put the brakes on the
Yankees
' offense the rest of the way while his teammates did their jobs as well. Shields' final line: 8 2/3 innings, six hits, two earned runs
and the win
. The Rays are now
tied for the AL wild card
with two games to go.
Melky Cabrera, Royals.
Raise your hand if you thought he'd collect 200 hits this season. Now quit lying and put that hand down. In a
7-3 Kansas City win
, the Melk Man picked up his 200th and 201st hits of the season. His previous career high was 149. This was a guy picked up off the scrap heap.
Vladimir Guerrero, Orioles.
The O's won (we'll get to that below), but Guerrero's single to lead off the bottom of the sixth was special from an individual standpoint. It was his 2,587th career hit, which moved him past Julio Franco as the all-time leader in hits by a Dominican-born player (
Biz of Baseball
via Twitter). Congrats to Vlad.
---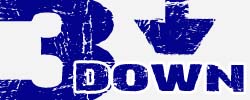 Red Sox.
Even forgetting
the dramatic collapse this month
, the Red Sox played a pretty brutal game Monday night. All-Star starting pitcher
Josh Beckett
was given a 2-1 lead early, but ended up allowing seven hits, four walks and six earned runs in six innings.
Jacoby Ellsbury
lost control of what would've been a tough -- but makeable -- catch in center, allowing
Robert Andino
a three-run, inside-the-park homer. The Boston offense left 12 runners on base. And for some reason, manager Terry Francona used the incredibly valuable
Alfredo Aceves
for an inning when trailing 6-2. With
Erik Bedard
going Tuesday night, it's entirely possible Francona needs Aceves for multiple innings, so it's a questionable move to be sure. They
lost 6-3
and are now tied in the
AL wild-card race
. All in all, it was an awful night for the Red Sox.
Nick Punto, Cardinals.
My high school and college coaches hammered the point home for years to me, and I'll never forget it -- and probably because it keeps happening in the majors: A baserunner should
only
slide into first base to avoid a collision. That's it. There is no other reason. And then I think about all the times I've heard people --
Cubs
color commentator Bob Brenly immediately comes to mind -- make the very salient point that if it was faster to slide, Olympic sprinters would slide through the finish line. It just boggles my mind how many guys are paid to play this game and still make the mistake. Punto made it Monday night in the eighth inning and it may have cost his team the playoffs. He hit a grounder that
Astros
first baseman
Carlos Lee
booted. Lee recovered in time to feed the pitcher the baseball in a bang-bang play. Punto dove head-first and was out by about a split-second to end the eighth. Had he run through the bag, he would have been safe and the Cardinals -- who had a runner on third -- would have scored. They ended up
losing 5-4 in extra innings
and still
trail by one game in the NL wild-card race
. With two games to play.
Ubaldo Jimenez, Indians.
Is this what the Indians dealt two premium pitching prospects for? Jimenez was shelled again Monday night, allowing nine hits and six runs in five innings
in a 14-0 loss
. He now has a 5.10 ERA since coming over in that July trade. Oh, and the
Tigers
acquired the less-heralded
Doug Fister
before the July 31st deadline. He's 7-0 with a 0.61 ERA in his last eight starts after stifling the Indians for eight innings Monday.
For more baseball news, rumors and analysis, follow @EyeOnBaseball on Twitter or subscribe to the RSS feed.