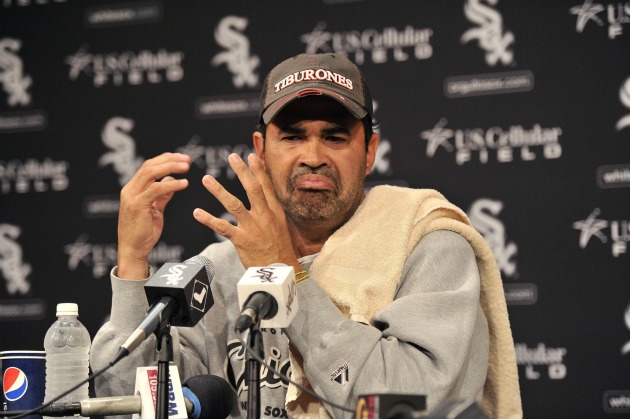 By Matt Snyder
Ozzie Guillen has managed his last game for the
White Sox
, and afterward he spoke with the media in a news conference. He didn't seem even remotely angry or bitter whatsoever. Instead, he was calm, respectful and seemed very at ease.
Here are some of the highlights.
• The first question was simply: "Why?" In true Ozzie fashion, he replied with "why what?"
• "Jerry [Reinsdorf] gave me the opportunity to play in the big leagues and to manage in the big leagues. ... I respect him."
• Speaking on his treatment by the media: "When you balance between the bad and the good, I think all you guys [were] pretty good with me." Of course, then a reporter tried to ask a question and Guillen firmly interjected with "I'm talking right now."
• On the failure that was 2011: "All the stuff out there, whatever you guys wanna say, whoever you wanna blame, don't do that."
• Guillen gave high praise to the White Sox fans, saying they've been "great" throughout both his playing career and managing career. He then added, "I know they're not gonna forget me. They can't. Even if they want to, they can't. They'll walk through the ballpark, my picture's gonna be right there ... I hope they don't take it down."
• On if a deal is in place for him to manage the
Marlins
, Guillen said, "No, [the White Sox] just let me go to talk to anyone I want."
• "Hopefully they'll be better without me. I wish them the best," Guillen said of the White Sox. He also noted the hardest part of the move was talking to the players before the game -- which
ended up being a victory
. When asked what he'd miss the most, he said the players.
• Guillen said he didn't want to manage the White Sox next season -- despite having a contract through 2012 -- because he didn't earn it. He stressed it was his call and he appreciates the organization for allowing him to make that call.
• He brought down the house when someone asked Guillen if he expected to take some of his coaches with him to his next managing job. His response: "Hell no! They got me fired." (He was being sarcastic).
• And it wouldn't have been a Guillen swan song without him dropping an F-bomb on live TV.
For more baseball news, rumors and analysis, follow @EyeOnBaseball on Twitter or subscribe to the RSS feed.