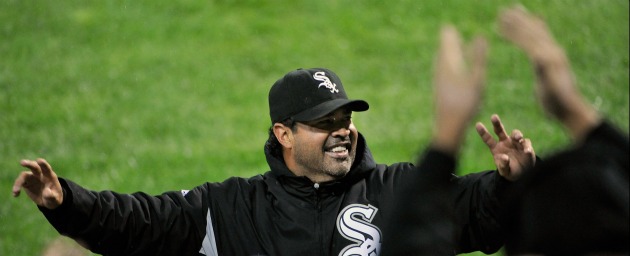 By Matt Snyder
White Sox
manager Ozzie Guillen has managed his last game for the White Sox. The White Sox have released Guillen from his contract -- which ran through 2012 -- but retain rights to his compensation. They announced the move after the White Sox beat the
Blue Jays
on
Monday night
. Prior to the game, Guillen had met with owner Jerry Reinsdorf for a half-hour, with Guillen saying he wanted to return but would only do so with a contract extension.
Guillen has long been rumored to be on the wish list of the Florida
Marlins
, especially now as they look for a fresh start heading into a new stadium for 2012. Earlier Monday night,
Guillen had a colorful session with media
before the White Sox hosted the Blue Jays. Now, a rumor has surfaced that Guillen is headed to the Marlins.
Joe Cowley of the Chicago Sun-Times
is reporting the White Sox are in talks with the Marlins to send Guillen to Miami -- citing "multiple sources." Nothing official has happened yet, though.
The Marlins have a managerial vacancy as
Jack McKeon is retiring
at the conclusion of this season.
While very rare, it's not without precedent for a player to be traded for a manager, albeit unofficially. Tampa Bay sent outfielder Randy Winn to the
Mariners
for little return in 2002, but manager Lou Piniella went back to the then-Devil
Rays
as compensation. Last offseason, the big rumor was that the White Sox sought promising young outfielder
Logan Morrison
in return for Guillen, but the Marlins wouldn't cough up that much. Under the current circumstances, it's very doubtful the White Sox could get anything even close to a player of Morrison's caliber.
The Marlins are ready to make a big splash this coming offseason in anticipation of changing their name to the Miami Marlins,
getting a new logo
and moving into a new home. One
report indicated they plan a huge movement in free agency
, with increasing the payroll to close to $100 million a possibility.
Bringing in a manager with Guillen's pedigree would only increase the excitement in Miami.
For more baseball news, rumors and analysis, follow @EyeOnBaseball on Twitter or subscribe to the RSS feed.