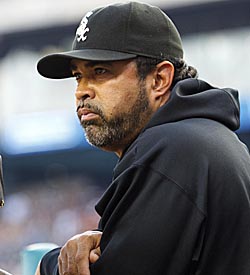 By Matt Snyder
White Sox
manager Ozzie Guillen is still in a state of limbo when it comes to his job for next season. It's been a hot topic of conversation surrounding the White Sox for much of the season.
Before Monday night's game against the
Blue Jays
, Guillen met with White Sox owner Jerry Reinsdorf and reportedly nothing was resolved (
Mark Gonzales
via Twitter). As Guillen so often does, he spoke completely candidly with the media about his current and future situation immediately after this meeting.
Here are some of the best one-liners:
• "F--- more years, I want more money. Life is about money. People are happy when they make a lot of money." (
Joe Cowley
via Twitter)
• "I hope we meet again before I leave," Guillen said of Reinsdorf. "It's hard to put this man in this situation." (
Gonzales
)
• "They should fire me. I had a great team and they played like s***. They have all the right to move on. I take that responsibility." (
Cowley
)
• On the possibility he doesn't have a job come next year: "Things will have to change. My wife will have to shop less, I will have to drink less, Oney will have to get a job ... " (
Cowley
)
• "If the
Marlins
are interested in me, f--- it they should be, I'm bad." (
Cowley
)
There was much more, but these are enough to get the basic idea of what some reporters tweeted was a 15-plus minute conversation.
Say what you will about Guillen, but baseball will be less entertaining whenever he's done managing.
For more baseball news, rumors and analysis, follow @EyeOnBaseball on Twitter or subscribe to the RSS feed.