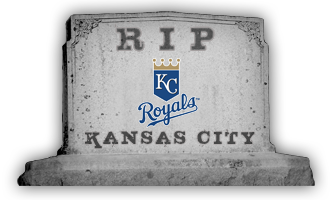 By C. Trent Rosecrans
Another season gone, another disappointment for 29 teams as one is immortalized forever. Let's take a look back at 2011 and forward in Eye on Baseball's R.I.P. series...
Team name:
Kansas City
Royals
Record:
70-89, 22 games back in AL Central
Manager:
Ned Yost
Best hitter:
Alex Gordon
-- .303/.376/.502, 23 HR, 87 RBI, 101 R, 45 2B, 17 SB
Best pitcher:
Aaron Crow
-- 4-4, 2.80 ERA, 1.39 WHIP, 64 K, 61 IP
Few seasons that end with a team 22 games back will garner as much optimism as the 2011 Royals, a team with few expectations other than playing time for young players and giving a glimpse of the future. Even before 2011, that future was bright -- but with some of the performances by the Royals' youngsters and even its less-youngsters -- have made that future seem even brighter.
2011 SEASON RECAP
For the 2011 Royals, the wins and losses were never part of the proposition, it was progress by the likes of Eric Hosmer, Alcides Escobar, Mike Moustakas, Johnny Giavotella and Salvador Perez. What the Royals found was that Hosmer is an absolute stud, Escobar can contribute enough at the plate to keep his glove in the lineup and Moustakas, after a rough start, has shown the ability that had so many excited.
Not only were the new toys impressive, so were some of the other, slightly older types, such as Gordon, Billy Butler, Melky Cabrera and Jeff Francoeur (none of whom are older than 27). In all, the Royals were sixth in the American League in runs (719), fourth in batting average (.274) and fifth in OPS (.743) -- all marks better than league average.
The problem for the Royals was finding pitching, finishing 12th out of 14 AL teams in team ERA at 4.46, allowing the third-best OPS by opponent batters (.763) and their starters had a 4.83 ERA.
2012 AUDIT
The rotation remains a mess, and without a significant trade or two in the offseason will likely stay that way. It's never a good sign when your best starter was Bruce Chen. There are, of course, good pitching prospects, but the arms the organization was banking on breaking through all took steps back in 2011, with lefty John Lamb undergoing Tommy John surgery, another lefty, Mike Montgomery, struggled in Triple-A, while yet another lefty, Chris Dwyer, struggled in Double-A.
Left-hander Danny Duffy had his ups and downs, going 4-8 with a 5.64 ERA in the big leagues, but his stuff was never in question. Many talented young pitchers have struggled in the big leagues before finding their control.
Former Astro Felipe Paulino (an actual right-hander) pitched relatively well this season for the Royals, going 3-6 with a 4.10 ERA for the Royals in 118 2/3 innings. Luke Hochevar, a former No. 1 overall pick, has teased with his talent -- but seems to do so every year. If this is the year he puts it all together…
FREE AGENTS
C Jason Kendall
RHP Kyle Davies
LHP Bruce Chen
LHP Jeff Francis
OFFSEASON FOCUS
The offseason focus is pitching, namely starting pitching. Of course, few teams aren't looking for starting pitching. The difference is the Royals still have some talented prospects to dangle.
Every offseason there seems to be a pitcher that most didn't think was available, but yet the thoughts of a big-named prospect can get another GM excited (think Shaun Marcum last offseason). The Royals have the prospects to flip for a high-quality pitcher -- and any chance they get, they should take.
The Royals missed their shot to trade high on Joakim Soria, who went from one of the game's best closers to being that guy in Kansas City. That said, he has a track record and team-friendly contract. He could bring back a starter for a team desperate for a reliever. The Royals have a $6 million options or 2012 and options for 2013-14. He does have a limited no-trade clause, but that could be waived.
Move Crow from the bullpen to the starting rotation. He can always go back, and going back is easier during the season than moving into the rotation. Crow was a starter until this season and still projects as one.
Offer arbitration to Melky Cabrera -- sure, he's due to regress and he'll probably make more than he's worth right now, but he could bring something at the trade deadline if nothing else works out. It also doesn't seem like the team has a center fielder ready to take over quite yet.
Ricky Nolasco has talent, but his recent struggles mean the Royals won't have to give up much to get the right-hander from Florida. A middle-tier Royals prospect is better than some team's top-tier prospects and it may not even take that to get Nolasco. Kauffman Stadium is a place where pitchers can succeed, so a change of scenery could help. He's owed 20.5 million over the next two seasons, but the Royals are said to have some money to play with. If they take his salary, they won't even have to give up much in prospects.
The Royals are unlikely to contend in 2012, but the promising start of 2011 should continue and if the pitching talent develops or the team makes some big moves to get pitchers to Kansas City, the playoffs could reach KC by 2013.
For more baseball news, rumors and analysis, follow @eyeonbaseball on Twitter or subscribe to the RSS feed.