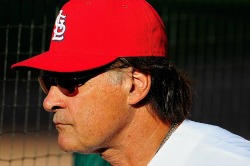 By C. Trent Rosecrans
The Cardinals are just a game behind the Braves in the wild card, something that seemed impossible earlier this month. Has it been the play of Rafael Furcal and the upgrade at shortstop he's provided? How about Albert Pujols' five homers this month and 1.020 OPS? Or maybe the starters who have a 2.59 ERA in September?
Nope, it's a necklace given to manager Tony La Russa by classic rocker Carlos Santana at a Sept. 6 concert in St. Louis.
La Russa skipped out on his postgame press conference to attend the end of Santana's concert at the Fox Theater in St. Louis and even joined Santana on stage to play the maracas. And then after the show, Santana gave his necklace to La Russa, who hasn't taken it off yet, Derrick Goold of the St. Louis Post-Dispatch writes.
When Santana gave La Russa the necklace, the guitarist told the manager, "You need this more."
Goold has a picture of his necklace on his blog, along with this description:
The necklace is on a simple, black leather loop, and the pendant is a blue, beaded rectangle. On one side -- the side pictured with this article -- there is a medal ornament that features two intertwined dragons. On the other side is a metal guitar stitched onto the pendant. A wisp of a blue feather flies out from the bottom of the pendant.

La Russa is not sure what it all means, or he isn't telling.
The Cardinals had just defeated the Brewers to move within 7.5 games of the wild card lead at that point and have since won 13 of their next 17 and enter Monday's game just a game behind the Braves. La Russa says it's nothing more than a necklace, but how does he know it wasn't a gift from a Black Magic Woman?
For more baseball news, rumors and analysis, follow @eyeonbaseball on Twitter or subscribe to the RSS feed.