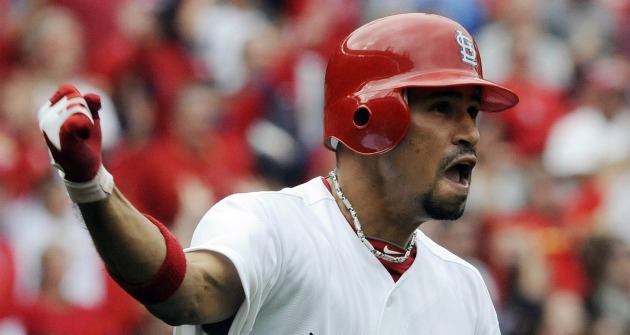 By Evan Brunell

Enter
Rafael Furcal
as hero, with the shortstop's solo blast in the bottom eighth sending the Cards to victory. After defeating the
Cubs
3-2, St. Louis has now improbably trimmed Atlanta's wild-card lead to just one game after the
Braves
had a 10 1/2-game lead at one point in late August.
Furcal has been a major part of St. Louis' resurgence, although his time with the Cards got off to a shaky start thanks to poor production and injuries. But from August 31 coming into Sunday, Furcal was hitting .270/.343/.472, strong numbers. While Furcal isn't the only reason for St. Louis' 17-7 record in that timespan, he's certainly a big part of it.
The Braves... what else can be said, really? The
Nationals
have been hot in September, but the Braves couldn't even muster a run off of
Ross Detwiler
and Co., amassing just four hits. Just like the
Red Sox
, the Braves seem to be crumbling under the weight of a major collapse.
"We know what's at stake. We know what every game means," Atlanta manager Fredi Gonzalez told the Associated Press prior to the game. "You've got to go out and play the game with some fun. We can't play with white knuckles on the bat and hold the ball so hard you can't throw it."
Atlanta Braves
89-70
Remaining schedule: 3 v. PHI
Coolstandings.com expectancy of wild card: 75.4 percent
St. Louis Cardinals
88-71, 1 GB
Remaining schedule: 3 @ HOU
Coolstandings.com expectancy of wild card: 24.6 percent
For more baseball news, rumors and analysis, follow @EyeonBaseball on Twitter or subscribe to the RSS feed.