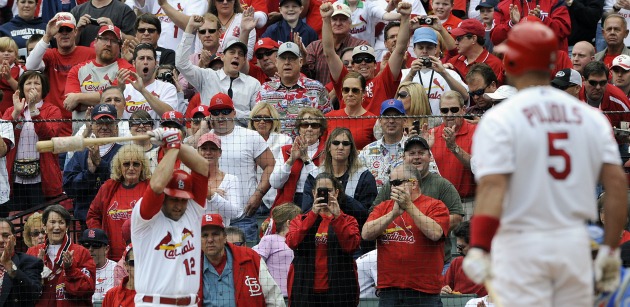 By Evan Brunell

On Sunday,
Albert Pujols
saw the
Cardinals
win and push the wild card deficit separating St. Louis and the
Braves
to one game.
Sunday also may have been the final home game of Pujols' career as a Cardinal. If reports about the Cardinals' stance in contract extensions is true, it certainly will be Pujols' last home game as a Cardinal. Pujols has a good chance to break the $200-million barrier in his next contract, something St. Louis may not be able to pay.
"It's the era we're in,'' Cardinals chairman Bill Dewitt, Jr. told the St. Louis Post-Dispatch. "Many times they sign back with the same club. With a legendary player like Albert, you hope he stays his whole career with the Cardinals, like Stan [Musial] did. But that process is going to take place and we're not sure how it's going to play out. I'm sure he's not sure either at this point.''
The Cardinals only have so many funds they can allocate to Pujols, and that was reflected this past offseason when the team offered Pujols a nine-year deal around $22 million annually, which comes out to a total price of $198 million. Pujols and his agent believed that both sides were far apart and you can't blame Pujols for thinking that when Alex Rodriguez is pulling in over $30 million annually. Seven other players currently make more than $22 million annually, and Adrian Gonzalez comes in exactly at $22 million. Gonzalez is a very good player, but Pujols certainly is worth more than A-Gon.
The
Post-Dispatch
reports that the club will probably stay within these previous parameters for upcoming negotiations -- if not shorten the years, which likely came about after Pujols started the season slow. It's unclear whether the Cards believe Pujols' value on the free agent market is overhyped or the team is unable to financially justify a bigger offer for Pujols. It's unlikely that Pujols' market is overhyped significantly, especially when a signing of Pujols would give a club additional national and local interest, boosting attendance. His contract will look saner than numbers that have been tossed around in certain corners, but slipping all the way to a $22 million average annual value seems a stretch, even as he's on pace to post the worst season of his career, although that's
very
relative as evidenced by his .302/.371/.551 line with 37 home runs.
If St. Louis can't go much beyond $22 million and are already entertaining trimming the years in their offseason offer, then Pujols is a goner. The guess here is that this is all posturing, and once the market establishes Pujols' value, the Cardinals will be right there with a serious offer.
For more baseball news, rumors and analysis, follow @EyeonBaseball on Twitter or subscribe to the RSS feed.