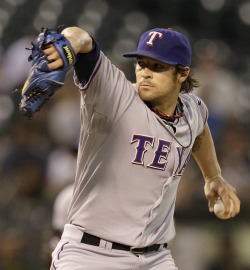 By C. Trent Rosecrans
Not that there was much of a question, but Rangers manager Ron Washington made it official on Saturday, announcing that C.J. Wilson would start Game 1 of the American League Divisional Series, no matter who the Rangers face in the first round of the playoffs.
Washington didn't announce the rest of his rotation, but the Rangers currently have Colby Lewis, Derek Holland and Matt Harrison following the left-hander.
The Rangers will keep Wilson in the rotation and have him start Monday against the Angels, but plan on cutting his putting short so that he can start Game 1 on three days' rest on Friday in the start of the playoffs.
Wilson had a blister pop up on the middle finger of his left hand in his last start, Wednesday against Oakland, but he told T.R. Sullivan of MLB.com that his finger is "completely healed." A blister forced him from Game 2 of the World Series last year, his lone start in the World Series. Wilson went 1-2 with a 3.70 ERA in four playoff starts last season. The Rangers, of course, had Cliff Lee as their top starter a year ago.
Washington also said he would keep eight relievers on his playoff roster, meaning he'll take just two catchers, Yorvit Torrealba and Mike Napoli, leaving Matt Treanor at home.
Texas enters Saturday's game tied with Detroit for the second-best record in the American League. Whichever team finishes with the worse record will open the ALDS in New York against the Yankees.
For more baseball news, rumors and analysis, follow @eyeonbaseball on Twitter or subscribe to the RSS feed.