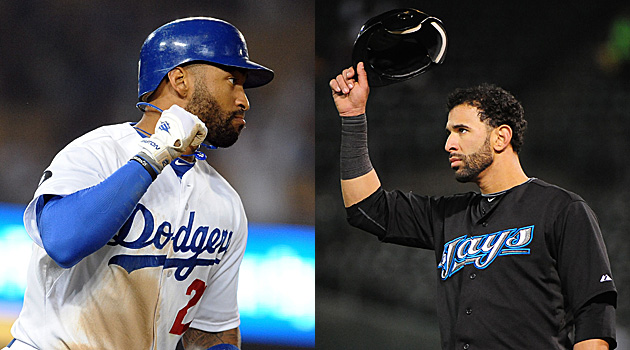 By Matt Snyder
As the end of the 2011 baseball season is now less than a week away, it's becoming more and more clear that the MVP debates are going to include a healthy amount of "value" discussion -- much more than in previous seasons. Throw out the stats because how you define who should be allowed to be MVP tells you who to vote for this season. The best position player in each respective league is playing for a team that hasn't been in contention for the playoffs for a majority of the season. If you believe pitchers are eligible to win the award, well, you have your AL vote, too. If you believe the MVP has to be a position player from a team in contention, again, the field is rather limited (well, I guess you'd have to pick between two teammates in the NL).
So with so many others giving us their definition of value, I figured I'd outline mine.
If I had an MVP vote in the American League, I'd vote for
Jose Bautista
. His
Blue Jays
entered Friday night 16 games behind the
Yankees
in the AL East and nine behind the
Red Sox
in the wild card. At 79-77, they're most certainly not a bad team, but they've been out of contention for the entire second half.
If I had an MVP vote in the National League, I'd vote for
Matt Kemp
. His
Dodgers
are 11 1/2 games behind the
Diamondbacks
in the NL West. They're 9 1/2 games behind the
Braves
in the wild card. At 78-77, they're most certainly not a bad team, but they've been out of contention for the entire second half.
Now, this is where the dissenters start calling me every name in the book -- because heaven forbid we ever actually
respectfully
disagree with someone's
opini
on. The argument will include fallacies like the Blue Jays and Dodgers suck (no, they really don't) and that it's easier to play in meaningless games (no, it's really not). We'll also hear about how "if you removed (Bautista or Kemp) from the (Blue Jays or Dodgers), they'd still not be a playoff team. Just like they aren't a playoff team now."
But you know what I'm going to counter with? Bautista and Kemp are actually more valuable than players like
Jacoby Ellsbury
and
Ryan Braun
because the supporting cast is bad. For example, the Red Sox were 89-73 last season and Ellsbury only played in 18 games. This season, they'll probably be a small handful of games better, but they also added
Adrian Gonzalez
. There are far more moving parts because every season is full of complexities, but this a simple way of saying the lineup is loaded and that losing only one guy doesn't handcuff that team. But what if the Blue Jays didn't have Jose Bautista? Would they be even close to .500? Nope. What about the Dodgers without Kemp? They'd be left trying to win every fifth day (when
Clayton Kershaw
pitches) and otherwise getting their teeth kicked in.
If you're really going to argue that Kemp and Bautista are more "most outstanding player" types than MVP types, you're going to have to tell everyone why a player absolutely carrying an otherwise mediocre offense isn't valuable. If you're going to argue it's easier to put up the kind of numbers these guys have because they aren't in playoff contention, you better argue that if you put Bautista in right field for the Yankees or Kemp in center for the
Brewers
, they'd somehow be worse players because now they're having to face pressure (nevermind the better protection in the lineup and extra RBI opportunities they'd have).
Also, the argument that it's easier to play in games for a team not in the race is farcical. You know what this argument is? An invented one by fans of teams that are headed to the playoffs. Sorry, guys, it is much easier to show up to the ballpark in a good mindset and play a game when the game actually matters. In a mental game like baseball, that matters. Playing meaningless games makes it more difficult to stay as focused as necessary for each at-bat. Think about the three Monday-Wednesday games next week for players on the
Twins
, for example. They've got to be ready to close the book on 2011, but still will be professionals and play games.
It's going to be interesting to see how the MVP voting falls in each league, as it's more about defining criteria than picking a player.
Tigers
' ace
Justin Verlander
deserves consideration, as does Ellsbury, alongside Bautista in the AL. Like I said, the only debate is what valuable means to you. Kemp has some company, as the Brewers' Ryan Braun and
Prince Fielder
,
Albert Pujols
of the
Cardinals
and the
Reds
'
Joey Votto
could all figure into the mix. Still, it feels like the first-place vote is defined by definition of value. Kemp gets the vote if you don't care about the team being in contention, and if you do, it probably is between Braun and Fielder.
The beauty of this vote is we don't have to agree (hey, I'll be happy if Braun wins, because that's who I predicted would win back in March). It's a subjective award and the criteria of "value" is pretty vague. I respect those who think the MVP has to come from a team in contention, but I just wanted to lay out something I've been thinking about ... that great players surrounded by bad supporting casts are actually
more
valuable. Just be open-minded and think about it.
For more baseball news, rumors and analysis, follow @EyeOnBaseball on Twitter or subscribe to the RSS feed.