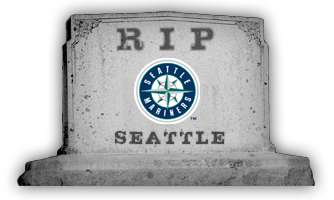 By C. Trent Rosecrans
Another season gone, another disappointment for 29 teams as one is immortalized forever. Let's take a look back at 2011 and forward in Eye on Baseball's R.I.P. series...
Team name:
Seattle
Mariners
Record:
66-90, 24 games back in AL West
Manager:
Eric Wedge
Best hitter:
Dustin Ackley
-- .283/.359/.431, 6 HR, 35 RBI, 37 R, 14 2B, 6 SB
Best pitcher:
Felix Hernandez
-- 14-13, 3.32 ERA, 1.181 WHIP, 220 K, 230 1/3 IP
The Mariners aren't going to lose 100 games, so there's that. The team has done that in two of the last four seasons, so at least that's not going to happen in 2011. But for a team that was in contention through the first three months of the season, 2011 will be a disappointment, regardless of the final tally.
2011 SEASON RECAP
No matter what else happened in 2011, the Mariners' season will be most remembered for a 17-game losing streak in July, sandwiched around the All-Star break. The Mariners were at .500, 43-43 and just 2.5 games out of first place after beating the A's on July 5. After their next win they were 14.5 games out and held just a 44-60 record.
Even when the Mariners were a half-game behind the Rangers in June, nobody expected it to last. It was more of a nice surprise than any kind of real run toward the playoffs.
However, there were two huge positives -- the performances of rookies Ackley and Michael Pineda. Pineda opened the season in the team's rotation and immediately appeared to be the prince to King Felix. Pineda, 22, is 9-10 with a 3.74 ERA, but started the season 8-5 with a 2.58 ERA in his first 17 starts. He had some struggles, but the talent is obvious and even had some people even mentioning the possibility of a trade of Hernandez. That's not going to happen, instead the team will have a fearsome front of the rotation for years to come.
Ackley came up later in the season, but has done nothing but hit since singling off of Roy Oswalt in his first big-league at-bat.
While the kids impressed, the veterans were another story. Even the incomparable Ichiro Suzuki struggled in 2011, as it appears he'll fall short of 200 hits for the first time in his MLB career. Suzuki had a career .331 batting average coming into the season in which he's hit just .274/.312/.340. Chone Figgins continues to be a disaster, hitting .188/.241/.243, and is under contract through 2013. While Figgins is still around, Milton Bradley isn't, as the team designated him for assignment in May after he removed himself from a game and left the stadium. Franklin Guitierrez has never recovered from a stomach ailment, hitting just .224/.261/.273.
2012 AUDIT
The Mariners have the start of a good rotation, with Hernandez, Pineda and 22-year-old right-hander Blake Beavan. Charlie Furbush, 25, could surprise.
It appears the 2012 lineup is set -- or at least it is contractually. That's the good news. The bad news is that it's pretty much the same as it was this year when the team had the worst offense in the American League by just about any measurable statistic.
At this point, it seems like the best chance the Mariners have is hoping their pitching is good enough to carry them for most of the year and the likes of Justin Smoak, Trayvon Robinson, Casper Wells and Mike Carp. Yeah, that's not a lot to hang your hat on, but that's about where we are.
FREE AGENTS

RHP Chris Ray
2B Adam Kennedy
RHP Jamey Wright
OFFSEASON FOCUS
The team needs more offense, that's for sure. But where does it come from? The team has Bradley, Yuniesky Betancourt and Carlos Silva coming off the books -- but that's enough to make any GM balk at bringing in another big free-agent contract. And that doesn't even mention the $18 million still owed to Figgins. Ichiro will be in his last year under contract at $18 million and nobody's going to take him off their hands.
But the team still needs offensive help, so here's some suggestions that could help out the Mariners:
Sign Prince Fielder. It'd help, and when Fielder hits the ball, not even Safeco Field can hold his bombs. But with the ghosts of Figgins and the warning sign of Adam Dunn still out there, It may be tough for Jack Zduriencik to convince ownership to open their pocketbook to sign the 27-year-old Fielder. Unlike Dunn, though, Fielder is still under 30 and has several big years ahead of him. It will be tough to get Fielder to come to Safeco, but maybe he's heard Seattle has some amazing vegetarian restaurants. There aren't many quick fixes for an offense, but it's a heck of a start.
Try to deal Gutierrez. Yeah, it's selling low, and that's never a good thing -- and the Mariners would have to eat some salary, but he's still a defensive presence and can have a decent shot at bring back at least some bullpen help.
And why bullpen help? Because closer Brandon League could bring back a bat. To get something in return, you've got to give something up. And the All-Star closer is in his last year of arbitration, so it's better to get rid of him now and get something in return rather than run the risk of losing him in free agency (and wait for draft picks to develop). And at this point, a closer is a luxury, not a necessity. You have to score runs and get a lead before you can close one out.
If the Mariners get close to .500 and the rest of the division struggles (it could happen), things could get much better -- or at least more interesting in Seattle in 2012. But it's not until 2013 when Ichiro and others come off the books that the next generation of Mariners can take over.
For more baseball news, rumors and analysis, follow @eyeonbaseball on Twitter or subscribe to the RSS feed.