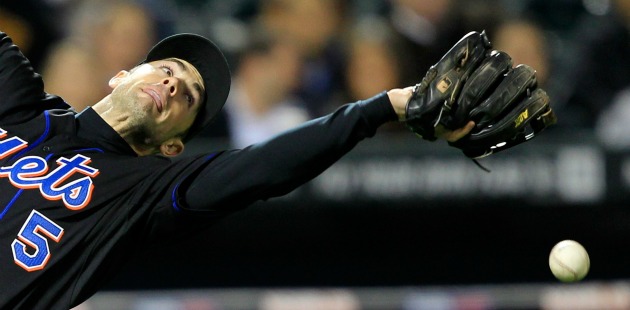 By Evan Brunell

Over the past week, Eye on Baseball has taken a look at the
AL Gold Glove award winners
, along
with the deserving NL candidates
. In addition, the
AL's worst defenders were scoured
, and now comes the senior circuit's recipients of tin gloves...
Catcher: John Buck, Marlins
-- One of the most important things a catcher can do is to throw out baserunners. To be sure, it's a total package -- calling pitches, acting as the general on the field, blocking pitches, framing pitches... but that pesky baserunner problem is also an issue, and Buck scores very low here. Out of 95 would-be basestealers, Buck only caught 17 of them, or 17.9 percent. Of all catchers who qualify for the batting title in the game -- not just the NL -- Buck's posted the worst caught-stealing rate. His reputation in all other aspects of catching are muted at best.
First base: Prince Fielder, Brewers
-- Fielder looks as if he should easily clear $150 million in a new contract this offseason and $200 million is not out of reach given the right motivated bidder. Whoever is acquiring him, though, will be doing so for his home-run bat as opposed his defense, which has been consistently awful. This is a player who would have been shoved into the DH spot in the AL had he come up with an American League team, but the Brewers have had to live with his glove at first. Fielder offers nothing at first beyond a human blob that can block the occasional grounder.
Second base: Dan Uggla, Braves
-- Uggla battled
Jeff Keppinger
for this honor, but Uggla takes the cake here by leading all NL second basemen in errors with 15, flashing both awful range and stone hands. It's surprising the Marlins didn't move him to third a while ago, and the Braves will certainly try to shift Uggla to third base once
Chipper Jones
retires. Until then, Atlanta's going to have to hope that
Freddie Freeman
at first and their shortstop can cover enough ground for Uggla to make his mark with the bat.
Third base: David Wright, Mets
-- If David Wright's .929 fielding percentage holds, it will be the lowest mark by a third baseman since 2007, excluding
Mark Reynolds
who has "bested" Wright's fielding percentage twice in 2011 and 2008. In 2007,
Ryan Braun
tallied a .895 fielding percentage and was moved to left, which was always inevitable. Before that, you have to go to
Edwin Encarnacion
in 2006. Errors aren't always an indication of how good a fielder is, but in Wright's case, he's making them in such copious amounts without the benefit of superlative range.
Shortstop: Yuniesky Betancourt, Brewers
-- Was there any doubt? The Brewers knew that they would have a horrendous left side of the infield, but the club could only hope that Betancourt and third baseman
Casey McGehee
's offensive production outstripped what they lost on defense. That hasn't been the case, and Betancourt remains the worst shortstop by a mile in the game. Really, there's no excuse for his still being considered a shortstop.
Left field: Raul Ibanez, Phillies
-- There isn't much that left fielders are asked to do. Stand out there with a glove, catch the balls coming your way and smash lots of home runs. Well, Ibanez hasn't quite delivered on these fronts, especially defensively where he combines a noodle of an arm with a lack of speed or quickness, making him a statue. He's fortunate he doesn't play for the
Cubs
, otherwise the ivy on the outfield walls would already have overtaken him.
Canter field: Angel Pagan, Mets
-- Pagan came out of nowhere to be a solid contributor to the Mets the last two seasons, but things have fallen apart this year. He leads all NL center fielders in erorrs and while he has good reaction time, his hands just aren't soft enough and his arm is a wash, too. Pagan may well have lost any shot at starting again after the year he's had.
Right field: Lance Berkman, Cardinals
-- As I keep bringing up, a right fielder's arm is more valuable than a left fielder or center fielder. Thus, a player's defense in right should be judged with a bit more notice as to the player's arm. Well, one of the worst arms in the league belongs to Berkman, playing right consistently for the first time in his career. The verdict? The Cardinal has a lousy arm and lousy range. Maybe Berkman should stick to first base.
Pitcher: Matt Garza, Cubs
-- A pitcher's job on defense basically comes down to this: field the grounders back to you and act as an irrelevant fly-ball pointer-outer. So when you make seven errors in just 191 innings for a fielding percentage of .774, you aren't doing too well. That's Garza, who has made five throwing errors while muffing two grounders. Garza's only made 10 putouts and 14 assists, so 22.5 percent of his involvement in fielding plays have resulted in an error. That's not good.
You'll notice no NL West players landed on the list. That's not surprising. With San Diego and Los Angeles playing in pitcher's parks and San Francisco's stadium rather spacious as well, defense is at a premium. Colorado also needs to emphasize defense as well to take away hits and patrol Coors Fields' cavernous gaps.
For more baseball news, rumors and analysis, follow @EyeonBaseball on Twitter or subscribe to the RSS feed.