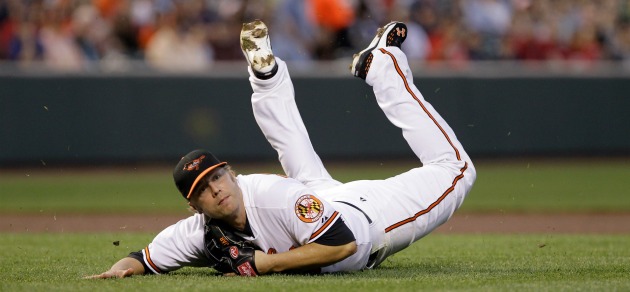 By Evan Brunell

You've seen who Eye on Baseball tabs as the
AL Gold Glove award winners
, and
who should take home the hardware in the NL
. But let's flip the switch and take a look at who is deserving of tin gloves. That is, who were the worst defenders at their respective positions in the American League this season? Let's take a look.
Catcher: J.P. Arencibia, Blue Jays
: -- The Jays would love it if Arencibia become a viable starter behind the plate. Unfortunately, that doesn't look as if it will work out. In his first full season as a catcher amassing 116 games, Arencibia registers as one of the worst catchers by advanced defensive metrics and more basic ones, too. Defensive Runs Scored (DRS), errors, caught stealing percentage, passed balls... all are leaderboards that Arencibia appears on, and not at the top.

First base: Miguel Cabrera, Tigers
-- Ah, first base ... where inept fielders make their home. That includes Miguel Cabrera, who is a really, really good hitter but just can't add value fielding. He doesn't have much range and is a statue in the field, leading all AL first basemen in errors with 12 (second in the majors behind
Prince Fielder
). There isn't anything in the field he does particularly well, so he lands here with a tin glove.

Second base: Jemile Weeks, Athletics
-- Weeks takes after his older brother, Rickie, in that he's just not a very good defender. Despite playing in just 88 games, Weeks has committed 12 errors, most among all second basemen.
Ian Kinsler
has committed one less error in 50 more games. Infielders -- middle infielders, especially -- can rack up errors if they have great range, committing miscues on balls that the average infielder wouldn't have gotten to. But even Weeks can't claim this, as his range factor is among the worst among second basemen.

Third base: Mark Reynolds, Orioles
-- This one is really easy, and is a player that everyone can agree on. Both advanced metrics and traditional defensive stats all agree that Reynolds is awful with -30 DRS, 26 errors and no range to speak of as well. There's a reason the Orioles have been giving Reynolds looks at first base, and it's because he's that bad at the hot corner.

Shortstop: Derek Jeter, Yankees
-- Yeah, Jeter has five Gold Gloves to his name, but that just shows you what's wrong with the voting process. The fact is that Jeter has been a bad shortstop, and been one for quite some time. He has zero range to speak of with poor reaction time and throwing accuracy or strength. His instincts and ability to make plays on balls he can get to can only take him so far.

Left field: Delmon Young, Tigers
-- You know how in the little leagues, the worst fielder was usually put out to pasture in left field, where he'd befriend weeds while the game played out around him? Yeah, well, that player turned out to hit pretty well, which is why Young is in the majors. Because he's certainly not in the bigs for his defense, which is among the worst in the league by any player at any position.

Center field: Alex Rios, White Sox
-- How much must GM Kenny Williams be regretting claiming Alex Rios off waivers? Not only has the center fielder not hit, he can't even fulfill playing his position. What does Rios in, and it's not like he does well at any aspect of defense this year, is his lack of instincts and range. He may have a solid .991 fielding percentage, but how much does that matter when you can't run balls down in the gaps?

Right field: Nick Markakis, Orioles
-- In right field, a player's arm is one of the more important characteristics as right-fielders need to be able to gun players out both at home and at third base. Markakis' arm is not one of his better attributes, but he's also lacking in speed which is odd given his 12 stolen bases are his most since 2007, but stealing bases and covering ground in the outfield are two very different things.

Pitcher: A.J. Burnett, Yankees
-- As a pitcher, range doesn't really matter. If a ball goes somewhere easily out of the reach of the pitcher, other fielders will handle the play. So it can be tricky to gauge just how good of a fielder a pitcher is. Looking at errors is one way to judge how surehanded a pitcher is, and Burnett's five errors tie him with two others. He doesn't have good range either, with his lack of mobility leading to just eight putouts and 21 assists, which rank at the bottom of the pack.
For more baseball news, rumors and analysis, follow @EyeonBaseball on Twitter or subscribe to the RSS feed.