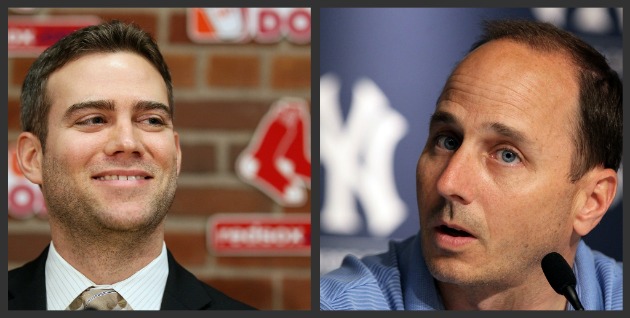 By Evan Brunell

Hidden in a fantastic piece about the impact of
Moneyball
on baseball by
Fox Sports' Ken Rosenthal
, with reverberations felt today, is an admission by
Yankees
GM Brian Cashman that he tried to emulate what the
Red Sox
had done to turn them into one of baseball's powerhouses on the backing of unexpected contributions and strong pitching. And yet, while Cashman has largely succeeded, it would appear that Epstein has regressed.
"[The Red Sox] were having a great deal of success with players of lesser ability," Cashman said. "I studied what they were doing to some degree, adjusted accordingly, brought the Yankees up to speed, brought us into the 21st century."
The Red Sox's transformation began when John Henry bought the club in December 2001 and encouraged increased emphasis on objective analysis. That coincided with the wooing of Moneyball darling Billy Beane, the A's GM, who was at one point on track to become Boston's new general manager before abruptly puling out, clearing the way for Theo Epstein to take over.
"When I got to the Red Sox, our roster at the time had plenty of star power, but the second half of our roster was not strong," Epstein said. So, he set out looking for undervalued assets using a process he cut his teeth on in San Diego. The Padres were and are a small-market team, which added emphasis to seeking out low-cost players who could return their value and more.
"I spent the vast majority of time focused on players who were undervalued for some reason or another, trying to build value through small acquisitions, through looking at players through a slightly different lens than the marketplace," Epstein said.
That led to a host of players entering Boston that became instrumental in its 2004 World Series victory. Most notably, first baseman Kevin Millar, third baseman Bill Mueller and designated hitter David Ortiz were brought in. Millar would provide a steady presence at first, Mueller won the batting title in 2003 and Ortiz went on to be a Boston legend.
It's no wonder then, that Cashman sat up and paid attention after years of the Yankees throwing gobs of money at free agents to come to town and fail. He hasn't stopped extending major dollars, but has also found success acquiring undervalued players such as Freddy Garcia, Bartolo Colon, Nick Swisher, Russell Martin, Boone Logan and more.
But Cashman wasn't done trying to figure out what made the Red Sox so great. He hired former Red Sox pitching coach (and interim manager in 2001) Joe Kerrigan to peer into how the Red Sox approached their pitching. Kerrigan was let go when Henry came aboard, but still had a deep knowledge of the organization.
"How they approached their pitching program was of interest to me," Cashman says. "I was throwing out much more (pitching) talent than the Red Sox had and they were having more success. It goes to execution, game plans, stuff like that."
What's interesting is that while Cashman has put together a strong team, founded partly on principles gleaned from Boston, Epstein has regressed.
No longer is Epstein finding undervalued commodities in the trade or free-agent market. Instead, he's opted for higher-priced veterans that have fallen flat on their face. Carl Crawford, John Lackey, Daisuke Matuszaka, Julio Lugo, Edgar Renteria (and some would count J.D. Drew)... the list goes on. And many of Epstein's holes have been glossed over by a trade he had nothing to do with, sending top shortstop prospect Hanley Ramirez to Florida for Josh Beckett and Mike Lowell. (Epstein would later extend Mike Lowell in a contract that also ended up a net loss.)
To be sure, Epstein has made up for it by overseeing bountiful crops of prospects acquired via the draft (and through his own maneuvering of free-agent compensation draft picks). In addition, he's also made several other savvy pickups and acquisitions (Adrian Gonzalez and Jarrod Saltalamacchia, to name a couple), but this is still a person who has seen a team turn from underrated achievers with a strong base of pitching into one of overpaid veterans and a pitching staff that has been nothing short of awful for a large part of 2011. While injuries absolutely shoulder part of the blame, at the end of the day this represents a failure for Epstein.
Both Cashman and Epstein are fantastic GMs. To be sure, Cashman scoping out how the Red Sox do business doesn't mean he's a copycat, or that he owes his credit to Boston. It means he's doing his job in exploiting what can work in New York's favor. Epstein, similarly, is still a strong GM despite some missteps in recent years. Yet, it's fascinating to hear about Cashman looking at what made the Red Sox succeed, then making it work for him. And meanwhile, Epstein's luck has run dry as he's received more and more money to play with -- but his investments are no longer working out.
Such is life running a baseball team.
For more baseball news, rumors and analysis, follow @EyeonBaseball on Twitter or subscribe to the RSS feed.