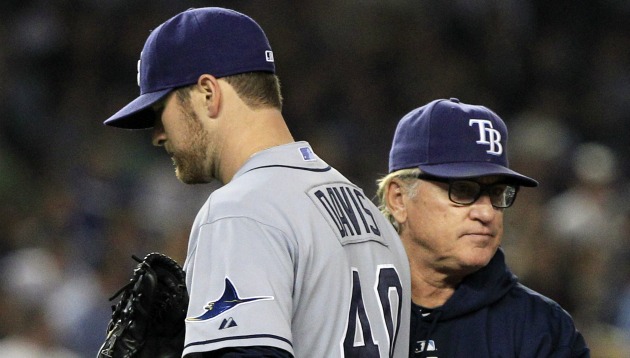 By Evan Brunell

The
Red Sox
missed a golden chance to get some breathing room in the AL wild card when the
Orioles
' light-hitting infielder,
Robert Andino
, ripped a three-run double in the bottom eighth off of
Jonathan Papelbon
. It was the first time Papelbon had been scored upon since July 16, so it's hard to blame Papelbon too much. It was just shoddy timing, but it was enough for Boston to drop yet another game and fall six games behind the
Yankees
. As if five games wasn't already a near impossibility to make up, it's all but assured at this point as New York now has a 99.9 percent chance of winning the division.
So yeah, that race is over.
In the wild card, the
Rays
fell to the Yankees in a 5-0 shutout, so no ground was gained or lost in terms of games separating Boston and Tampa Bay. However, the Rays' work is now that much tougher as they failed to capitalize on inching closer to Boston. Any time the Red Sox lose, never mind to a team as down and out as the Orioles, the Rays have to be there to take advantage. After all, it's not just Boston that has to lose the wild card. Tampa has to win it, and their chances actually went down on Tuesday by about three percent.
But let's not forget the
Angels
, who won on Tuesday and suddenly makes them a dark-horse candidate to steal the wild card. The Angels' division hopes are all but scrubbed, so it's the wild card or bust. At just 3 1/2 back, the Angels could feasibly swoop in and steal the wild card. After all, Boston can't buy a win while the Rays have six more games against the Yankees.
Boston Red Sox

88-67
Remaining schedule: 1 v. BAL, 3 @ NYY, 3 @ BAL
Coolstandings.com expectancy of wild card: 90.8 percent

Tampa Bay Rays

85-68, 2 GB
Remaining schedule: 3 @NYY, 3 v. TOR, 3 v. NYY
Coolstandings.com expectancy of wild card: 5.2 percent

Los Angeles Angels

84-70, 3 1/2 GB
Remaining schedule: 2 @ TOR, 3 v. OAK, 3 v. TEX
Coolstandings.com expectancy of wild card: 1.1 percent
For more baseball news, rumors and analysis, follow @EyeonBaseball on Twitter or subscribe to the RSS feed.