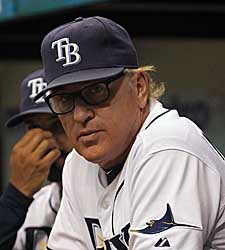 By Matt Snyder
In case you haven't heard -- cough, cough -- the
Red Sox
are just 5-14 in September and
in danger of losing a once-firm grip on the AL wild card
. The
Rays
trail by just two games, but Rays manager Joe Maddon has been on the other end of a similiar situation before. He was a member of the
Angels
' coaching staff in 1995, when they coughed up an 11-game lead to the surging
Mariners
(Maddon errantly says 13, but who can blame him?).
On the Dan Patrick Show Tuesday, Maddon discussed how the feeling of a season slipping away affects on-field performance (via
Sports Radio Interviews
):
"I was involved in 1995 with the Angles when we lost a 13-game lead. It was really awkward walking into the ballpark. You felt really heavy. There was this weight about it walking into the ballpark where actually your legs didn't want to seem to work either. It's an odd life experience and it comes through sports primarily I think when things are slipping like that. It can be difficult and you need a couple of guys more than anything to lift that burden somehow, but it's hard to really get that burden off you when you starting doing that heavy."
This is yet another reason to like Maddon --
as we already know the players do
. Instead of resorting to some lame cliche about how every game means the same and players don't worry about the standings, he admitted that there's a feeling that seeps into the clubhouse and harms how the players play. I know the extreme stat crowd believes the game isn't affected one iota by so-called "intangibles," but here we have a forward-thinking manager who believes strongly in numbers but also notes there's a mental aspect to the game that cannot be quantified. As I've said many times, I love numbers, but baseball isn't played by robots. Human beings are affected by mentality. Kudos for Maddon for simply telling it like it is.
For more baseball news, rumors and analysis, follow @EyeOnBaseball on Twitter or subscribe to the RSS feed.