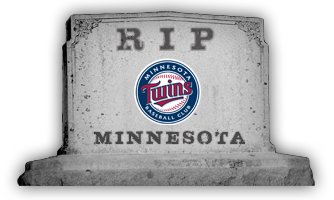 By Matt Snyder
Another season gone, another disappointment for 29 teams as one is immortalized forever. Let's take a look back at 2011 and forward in Eye on Baseball's R.I.P. series...
Team name:
Minnesota
Twins
Record:
59-93, 29.5 games back in AL Central
Manager:
Ron Gardenhire
Best hitter:
Michael Cuddyer
-- .280/.347/.460, 19 HR, 68 RBI, 66 R, 27 2B, 11 SB
Best pitcher:
Scott Baker
-- 8-6, 3.21 ERA, 1.19 WHIP, 120 K, 131 2/3 IP
The 2011 season has to go down as one of the most disappointing in franchise history. The Twins had six division titles in the past decade, including 2009 and 2010. In 2011, they're in danger of 100 losses. And this wasn't because of sweeping losses to free agency or anything like that. In fact, the team coming back in 2011 was very similar to the 2010 AL Central champs. But we all know one major difference: Injuries.
2011 SEASON RECAP
The disastrous 13-3 opening day loss to the
Blue Jays
ended up being a harbinger of things to come, as the team accustomed to visiting the postseason would never even reach .500 during the 2011 season. By the middle of April, they were five games back and would never get closer. For a stretch in June and July, the Twins appeared to be returning to form. They won 15 of 17 games, but then lost six straight. They then ripped off 12 wins in 16 games to move to within five of first place on July 17. With the trade deadline approaching, it appeared a once-lost season was salvaged and the Twins were reportedly going to be buyers. Instead, they couldn't get close enough to the lead and mostly stayed pat.
And then the losing picked back up, as the Twins were 7-21 in August. In September, they've been downright awful, currently sitting at 2-14 in the month.
The highlights of the season were
Francisco Liriano
's no-hitter and
Jim Thome
slugging
home runs No. 599 and 600 in the same game
. But the Twins' season will be remembered for the injuries and underperformance. Only Michael Cuddyer has really had a good year for the position players. Superstars
Justin Morneau
and
Joe Mauer
only combined to play 151 games due to various lingering injuries. Even when they played, both players had the worst offensive seasons of their respective careers. Aside from Cuddyer, only
Danny Valencia
and
Ben Revere
have played in at least 100 games (
Jason Kubel
is sitting at 99). The lack of stability has played out on the field, as only the
Mariners
have scored fewer runs in the AL. Other than Scott Baker, the starting pitching has been inconsistent at best and awful at worst. And the bullpen ranks dead last in the AL in ERA.
2012 AUDIT
It's easy to blame everything on injuries, but it's pretty evident a healthy Twins team still wouldn't have been able to keep up with the
Tigers
. Still, just having better fortune with health would drastically improve the product in 2012. Neither Mauer nor Morneau is really old, so one would expect bounce-back seasons from both -- though there's definite concern with Morneau's concussion issues and Mauer's durability behind the plate. Having full seasons from people like
Denard Span
, Jason Kubel and
Alexi Casilla
would be a huge boost as well.
Assuming natural progression to the norm from the players who underpermed and relatively better health in 2012, the Twins are still set up quite well. They have a strong farm system (ESPN.com had it ranked seventh before the season and Baseball America ranked it 12th, though Baseball Prospectus had it 15th) and a good core at the big-league level. The one issue that needs fixing from outside the organization is the pitching staff, specifically the bullpen. Still, do not be surprised to see the Twins right back in the thick of the AL Central race next season. They need some tweaks, but not wholesale changes.
FREE AGENTS
Michael Cuddyer, OF
Jason Kubel, OF
Matt Capps
, RP
Joe Nathan
, RP (team option)
Clay Condrey
, RP
OFFSEASON FOCUS
The first thing the Twins need to decide is where Mauer and Morneau fit. It's been reported that Morneau might be forced into mostly being a DH, due to lingering effects from his concussions. From there, the bullpen must be addressed and probably the starting rotation as well. Here are five main things that could help the Twins compete in 2012 with an eye on the future.
Move Mauer to first and Morneau to DH to help save their bodies and hope both return to previous form. If neither does, the Twins have serious financial problems.
Now that Mauer is at first base, catcher is a gaping hole. There aren't any real good catching prospects in the minors, so a veteran stopgap like Ramon Hernandez (who is a free agent) would make sense.
Keep both Kubel and Cuddyer to be the corner outfielders. Make Ben Revere the everyday center fielder and trust in his offensive development. This would free up Denard Span as trade bait for pitching help. The Nationals were rumored to want a new CF back at the trade deadline and Span's name was involved. The Nats have a few live, young arms at the back-end of the bullpen in Tyler Clippard, Drew Storen and Henry Rodriguez, any of whom would be a great fit between Glen Perkins and Joe Nathan. An alternative to these ideas is leaving Mauer behind the plate, playing Cuddyer at first, keeping Span and hoping to find bullpen help through free agency or minor trades. So pick one avenue.
Are they going to give Tsuyoshi Nishioka another shot? They probably need to try. Drastic improvement in his second American season would be a big boost.
A transition needs to be made from low-upside veterans in the rotation (Nick Blackburn, Brian Duensing) to younger arms like Scott Diamond, Liam Hendriks and Kyle Gibson at some point. And they've got to hope Liriano and Pavano pitch better.
Of course, if the underperformance from and injuries to so many key players continues, the Twins will be forced into a major rebuild. For now, though, there's enough past evidence to believe that 2011 was just an anomaly for several reasons.
For more baseball news, rumors and analysis, follow @EyeOnBaseball on Twitter or subscribe to the RSS feed.