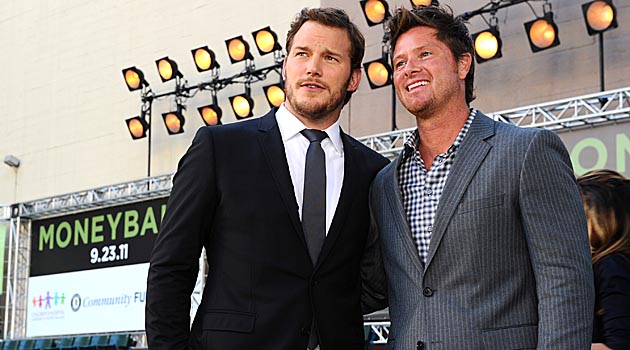 By Larry Dobrow
So the first wave of
Moneyball
reviews are out and
the dorkpundits seem more or less pleased with the final product
. But what about the individuals who actually lived through the
Moneyball
era in Oakland, who had to endure the massive indignity of paying for their clubhouse sodas (or so the movie would have us believe)?
One of them, Scott Hatteberg, gives the film a quasi-Ebertian two thumbs up. Still a member of the Oakland organization -- he serves as a special assistant for baseball operations under Billy Beane -- Hatteberg wasn't directly involved with the production and doesn't appear in it ("I should've had a cameo as a peanut thrower or something," he jokes). But he gives the filmmakers credit for translating what he describes as "a dense book, given all the statistics" into an entertaining character piece.
"They really sunk into the character of Billy," Hatteberg says. "It's not just a 'baseball movie,' so to speak. There are lots of themes in it that transcend all of that."
The on-screen Hatteberg, played by Chris Pratt (
Parks and Recreation
), comes across as quiet, reserved and, when faced with the prospect of learning how to play first base on the fly, borderline terrified. "It's true that I was scared a lot," Hatteberg confirms, diplomatically. Nonetheless, he loves the depiction.
"I swear we could've been brothers in another life," he says. "We'd come on the set and I'd see [Chris] in uniform, and think, 'This is just too surreal to be happening.' He was bow-legged and slow-footed just like I am. The mannerisms were great."
Hatteberg's only issue with the film? "Well, I wish we could've changed the ending," he jokes. "I wish we'd won the World Series that year. But coming up short keeps it interesting."
For more baseball news, rumors and analysis, follow @EyeOnBaseball on Twitter or subscribe to the RSS feed.