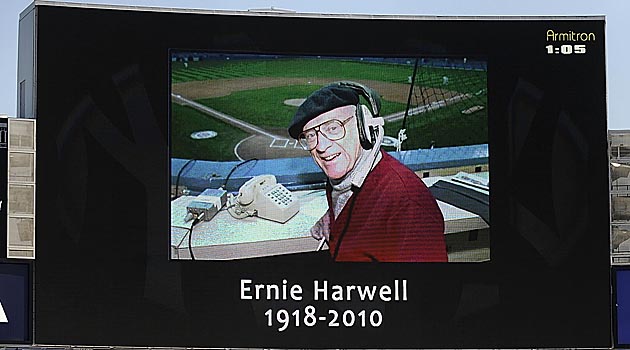 By Matt Snyder
Evidently nothing is sacred to the masses.
A statue of late, legendary
Tigers
broadcaster Ernie Harwell outside Comerica Park in Detroit was vandalized recently. His likeness is now without glasses, and it appears someone needed to use a crowbar in order to pry the glasses off the statue. The Tigers are going to have new glasses put on the statue, but that doesn't mean they can prevent some dregs of society from taking them away again.
"We're going to attach them as strongly as possible," says Omri Amrany of the Fine Art Studio of Rotblatt-Amrany in Fort Sheridan, Ill. (
Detroit News
), "but if somebody has a crowbar and a little persuasion, you cannot keep the glasses on anybody. Anything that can break a car can break a statue."
I wish I could say I was surprised to read this, but I wasn't. Going into some tirade about society's ills would be misplaced, though, because one bad egg doesn't mean everyone is sick. It's just amazing the kind of things that some of these losers think are cool. What are you possibly going to do with some bronze glasses? Get a life.
Must-read story:
Earlier this season,
Marlins
pitcher
Chris Hatcher
gave a ball to the son of a U.S. soldier who was about to go back out to Kuwait. Hatcher just received a neatly-folded American flag in the mail from the soldier and plans to proudly display it at his home. The entire story --
at Fish Tank blog
-- is definitely worth a read.
Favorites for Prince:
Jon Heyman of SI.com
runs down a list of who he believes will be the favorites to land
Prince Fielder
in free agency this coming offseason. Here is the list, in order of likelihood (according to Heyman): 1.
Orioles
, 2.
Cubs
, 3.
Rangers
, 4.
Nationals
, 5.
Dodgers
, 6.
Brewers
, 7.
Mariners
, 8.
Cardinals
, 9. Marlins.
Yankees, Red Sox most popular:
Judging simply from the number of Facebook "likes," the Yankees and Red Sox have the most fans. Yes, I know, this is
shocking
. The Cubs check in at No. 3, followed by the
Giants
,
Phillies
and
Braves
(
Biz of Baseball
).
Hanson's chance:
Braves starting pitcher
Tommy Hanson
hasn't started since August 6, but there's a chance he'll get one more outing this season. He'll throw in an instructional league game Friday, likely around 65 pitches, and if there are no setbacks, the Braves might start him on the final game of the regular season. One caveat, though, is that if a playoff berth is on the line, the Braves will start
Tim Hudson
, not Hanson (
AJC.com
). Still, this is good news for the Braves in terms of possibly having Hanson back for the playoffs -- should they hold on.
Puma's honesty:
You ever hear players saying it's not all about the money? Yeah, at least 95 percent of them are lying. Cardinals outfielder
Lance Berkman
is telling the truth now, though, as his negotiations with the Cardinals have slowed. "It's always about money," Berkman said (
St. Louis Post-Dispatch
). "No matter what people say, it's always about the money."
Someone call "People" magazine:
Brad Pitt has a new love. Sorry Angelina. Pitt feels "a little bit romantic about the A's," after starring in "Moneyball" and meeting Billy Beane. (
SFGate.com
)
Papi's pitch:
The Red Sox has serious depth issues in the starting rotation due to injuries and
John Lackey
's underperformance. Meanwhile,
Alfredo Aceves
has a 2.82 ERA in 102 innings this season and is pitching very well out of the bullpen. At least one Red Sox player believes this is out of whack. "To be honest with you, the way things are going, he should be starting,"
David Ortiz
said (
MLB.com
). "Simple as that. Give it a shot."
White Sox have failed:
According to first baseman
Paul Konerko
, it's playoffs-or-bust every single season for the White Sox. So 2011 is "a failure." (
Chicago Tribune)
Manuel's bat:
Indians
slugger
Jim Thome
was recently presented with a game-used Charlie Manuel bat. Manuel mentored Thome all the way back in the minors in 1990 and then managed him on the 2005 Phillies. In fact, Manuel is the one who urged Thome to use his famous bat point (toward the pitcher) as a timing mechanism. "It's pretty awesome," Thome said of Manuel's bat (
MLB.com
). "It's going in my office at home."
Bauer, Cole updates:
Former college teammates (UCLA) Trevor Bauer and Gerrit Cole were two of the top three picks in the 2011 MLB Draft. Cole went first overall to the
Pirates
while Bauer went third to the D-Backs. Cole will likely pitch in the Arizona Fall League, his first competitive pitching since the draft (
MLB.com
). Bauer has gotten some work in at the Double-A level, but he's been knocked around a bit (7.56 ERA in four starts), so he won't make the bigs this season, as had previously been rumored (
MLB.com
). Expect both to challenge for rotation spots at some point next season.
New closer:
The Orioles have obviously changed closers from
Kevin Gregg
to
Jim Johnson
, even though manager Buck Showalter hasn't said so. Johnson has five saves in September to Gregg's one. (
Orioles Insider
)
For more baseball news, rumors and analysis, follow @EyeOnBaseball on Twitter or subscribe to the RSS feed.