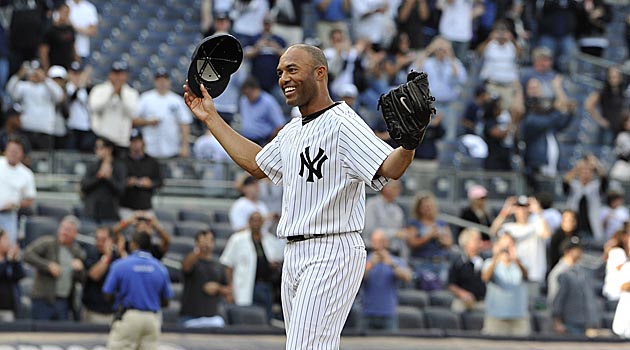 By Matt Snyder
The man widely considered the best closer in the history of baseball now has the all-time save record all to himself.
Monday afternoon,
Yankees
closer
Mariano Rivera
nailed down his 43rd save of the season
in a 6-4 win
. It was the 602nd save in his illustrious career, which meant that he passed
Trevor Hoffman
's 601 and is now the record-holder for the most saves in major-league history.
Rivera's ninth Monday was just a run-of-the-mill save, considering the bar he's set. He induced a routine ground out, routine fly out and a looking strikeout in 13 pitches -- barely breaking a sweat in the process. Considering he never showboats even in the least, Rivera did appear a bit embarrassed to be basking individually in the spotlight as his teammates forced him back to the mound to soak in the cheers of the crowd. He was smiling and waving, even kind of shrugging his shoulders like he didn't know what to do (see the above picture).
Hoffman and Rivera have virtually lapped the rest of the field. After Hoffman's 601, Lee Smith is third with 478 saves. Then you have John Franco with 424, Billy Wagner with 422 and Dennis Eckersley with 390. Only 21 pitchers in history even have
half
as many saves as Rivera. Sure, it helps that the save is a modern innovation -- and the one-inning save is an even more modern movement -- but that doesn't make the run any less impressive.
Rivera's resume is simply staggering. Rivera is 41 years old and still on top of his game. This season marked the eighth time he recorded at least 40 saves. He's a 12-time All-Star, five-time World Series champion and has allowed less than a baserunner per inning throughout his career (0.999 WHIP). Let's not forget the work he's done in the postseason, where he's recorded 42 saves with a 0.71 ERA and 0.77 WHIP.
Still, when asked if he was the greatest closer of all-time after his feat, he said: "I would never say that."
Rivera is already headed to Cooperstown the first season he's eligible to make the Hall of Fame, so the record-breaking 602nd career save was simply gravy for perhaps the greatest reliever in baseball history -- even if he won't say it.
For more baseball news, rumors and analysis, follow @EyeOnBaseball on Twitter or subscribe to the RSS feed.