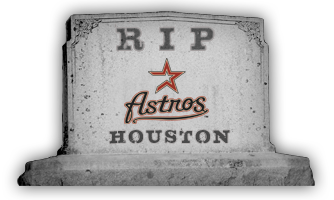 By Matt Snyder
Another season gone, another disappointment for 29 teams as one is immortalized forever. Let's take a look back at 2011 and forward in Eye on Baseball's R.I.P. series...
Team name:
Houston
Astros
Record:
52-100, 37.5 games back in NL Central
Manager:
Brad Mills
Best hitter:
Carlos Lee
-- .277/.338/.455 with 18 HR, 86 RBI, 59 R, 36 2B
Best pitcher:
Wandy Rodriguez
-- 11-10, 3.55 ERA, 1.32 WHIP, 177 2/3 IP, 160 K
Unfortunately for the Astros, leading off the R.I.P. series means they're the worst team in baseball. So the biggest theme of the 2011 season in Houston was losing. They've already set a franchise record with 100 losses and could creep up on the MLB list of most losses in history with a bad final week and a half. The "best hitter" listed above is by default because both
Michael Bourn
and
Hunter Pence
were traded at the deadline. With the ownership situation in limbo -- Jim Crane still hasn't been approved -- it's hard to tell what direction the Astros will take in the future. One would expect promising youngsters like
Jose Altuve
and
Jordan Lyles
to lead a youth movement.
2011 SEASON RECAP
It was pretty forgettable from Day 1, when the Astros blew a ninth-inning lead against the
Phillies
. The Astros would open the season 0-5 and never get back to .500 -- the closest they got was when they were 7-11. Perhaps unbelievably, they did win the season series against the defending champion
Giants
(four games to three). They also took two of three from the
Blue Jays
, but didn't have a winning record against anyone else. The best month was August, when the Astros went 12-17. So that pretty much sums it up.
Seeing the writing on the wall, Astros GM Ed Wade dealt Bourn and Pence before the non-waiver trade deadline in July for some prospects. He also traded
Jeff Keppinger
. There was a youth movement from about the middle of the season on, but it's a pretty lackluster movement, as the system simply isn't stocked with much talent -- for example, in
Baseball Prospectus' midseason top 50 prospects
, Altuve was No. 42. He was the only Astros prospect on the list. The
preseason top 101
only had two Astros, with Lyles at 59 being the top prospect in the system.
Basically, they have a long way to go in order to get back to respectability, and I'd venture to guess the overwhelming majority of Astros fans would even admit as much. Whenever there's an ownership change, they need to start over. The mantra should be to clean house and build a foundation from the ground (low-level minor leagues) up ...
2012 AUDIT
Which leads us here. Can the Astros compete in 2012? We obviously have no way of knowing exactly what's going to go down in the offseason, but it's hard to see the team being much improved by next season. Most of the young players either aren't very impressive or aren't yet ready. The veterans still on the roster are either not very good or past their respective primes -- which is why they weren't traded like Bourn and Pence.
As you can see below, there isn't really any money coming off the books from the current club, though dealing Bourn and Pence did help matters a bit there. Still, it's unlikely the Astros have tons of money to burn on free agency, so the team will have to improve either internally, or through trading veterans like
Brett Myers
, Lee or Rodriguez. Considering the salaries of each player compared to production, they aren't going to land enough back to immediately make a drastic improvement.
Unless the youngsters all make huge leaps, it's entirely possible the Astros are again the worst team in baseball in 2012.
FREE AGENTS
Clint Barmes
, 2B
Jason Michaels
, OF
OFFSEASON FOCUS
As stated above, there has to be a complete makeover of the entire organization. Minor-league player development and a youth movement should continue to be the focus. Even if new ownership is firmly in place before free agency and opens the floodgates with spending -- which is, again, unlikely -- there isn't enough in place to make the team competitive with big signings. For example, say the Astros land
Prince Fielder
,
Jose Reyes
and
C.J. Wilson
. (I'll pause for laughter). That
still
isn't a playoff team. It would be like putting a band-aid on a broken leg, and by the time the youth movement was ready to help those three, they might not be in their prime anymore.
Instead, a much better road map would be to follow the
Royals
' plan. Fill in holes with temporary players while waiting on the prospects from the low levels of the minors like Delino DeShields Jr. (2B), Jonathan Singleton (1B), Chris Wallace (C) and Jarred Cosart (SP) to develop. Meanwhile Lyles, Altuve,
Jimmy Paredes
,
J.D. Martinez
and others already in the bigs need to continue to develop. Of course, the Royals had the best farm system in baseball heading into this season while the Astros were ranked in the bottom five by most outlets. So, again, that's where the focus should be for the next few years. The entire system should be revamped.
So if I was the incoming Astros owner, here's what I'd hope to do:
Try to lure Andrew Friedman back home -- he was born and raised in Houston -- and give him the title President of Baseball Operations. He's helped work wonders with the Rays, so it's pretty easy to trust he can build a farm system basically from scratch.
Trade Myers, Rodriguez and Lee for whatever prospects they can bring back, even if it meant eating some of the salary. A three-to-five year plan should be put in place, so you need to play young players and see who can hack it at the big-league level. Aging veterans only take away spots from the young players.
Put an excellent coaching staff in place with an emphasis on player development. The focus has to be on the foundation before the big-league club at this point. It's far too much a mess to solve in one offseason.
For more baseball news, rumors and analysis, follow @EyeOnBaseball on Twitter or subscribe to the RSS feed.